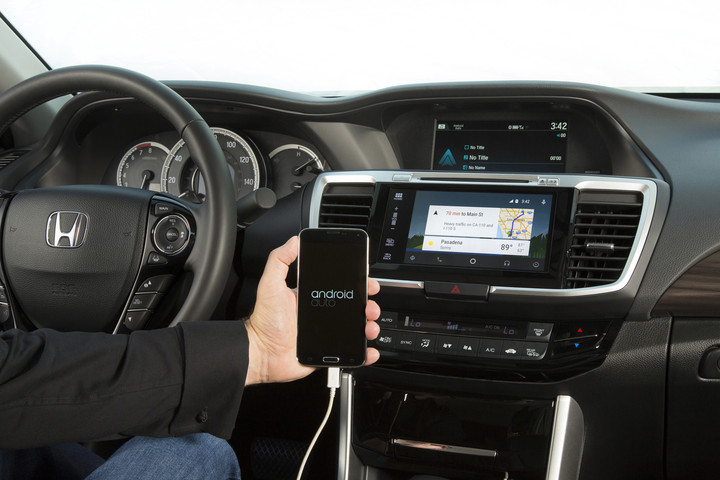 Honda has unveiled its 2016 Accord featuring both Android Auto and Apple CarPlay interface functionality.
Honda becomes the first auto manufacturer to roll out a connected vehicle supporting both Apple and Google's automotive operating systems synced with an Android or iOS device. Android Auto offers 2016 Accord drivers features such as Google Maps, Google Now, messaging, music, and access to apps compatible with Android 5.0 or above. Apple CarPlay provides largely the same functionality compatible with iOS 7.1 or later, and iPhone 5 or newer.
More information is available here.
Amazon reports 81% revenue growth for AWS
In its latest earnings report, Amazon announced year-over-year revenue growth of 81% for Amazon Web Services, its broad cloud platform business. The company shattered analyst expectations of a 50% gain for AWS. Amazon drastically reduced its AWS pricing last year, causing a brief dip in cloud revenue that has proved profitable in the long run, according to The Wall Street Journal.
CA releases latest earnings report, takes small hit from Rally deal
CA Technologies reported earnings from its most recent quarter, coming in under Wall Street revenue projections but with a higher net profit. CA announced it accrued US$977 million in revenue this past quarter, compared with $1.069 billion last year. CA's acquisition of Rally Software, which closed this month, led to what financial analyst Daniel Ives of FBR Capital Markets called "mixed results" and a prediction that the company will maintain its flat growth in the next quarter as its investments in DevOps, the cloud and security keep the company on track.
"Recent acquisitions should help bring newer products into CA's all-important enterprise solutions business, although we believe it has a way to go before offsetting legacy weakness, and while secular challenges in the mainframe market continue to create headwinds," said Ives. "Ultimately, we believe CA remains laser-focused on investments in key growth areas (DevOps, management cloud, security), leaving it poised for a return to growth in the coming years through solid cross-sell opportunities/improved execution. In a nutshell, although CA clearly has more work to do as it looks to rejuvenate the top line, we believe it remains on a healthy path as it looks to expand/update its product footprint via product development and the pursuit of M&A."
BlackBerry exhibits security products, lays out software strategy
BlackBerry has showcased a suite of security products based on software company acquisitions over the past year and a half.
The company announced the acquisition of another company, AtHoc, for secure mass communication and collaboration. According to a report from Reuters, BlackBerry CEO John Chen said the company is looking at a 12 to 18 month transition process toward a more software-focused entity as it moves away from smartphones.
Rackspace and Intel partner on OpenStack enterprise development
Rackspace has announced a new collaboration with Intel to form the OpenStack Innovation Center at Rackspace's headquarters in San Antonio to spur feature development and enterprise adoption of OpenStack.
The Innovation Center will bolster developer participation and code contribution to OpenStack to create features and functionality, as well as debugging through upstream code contributions. Aside from the Innovation Center, Rackspace and Intel will offer OpenStack developer training and will partner on joint OpenStack engineering in collaboration with the OpenStack Enterprise Work Group to build the largest OpenStack developer cloud consisting of two 1,000-node clusters for large-scale cloud development and testing.
Additional details are available on the Rackspace and Intel blogs.