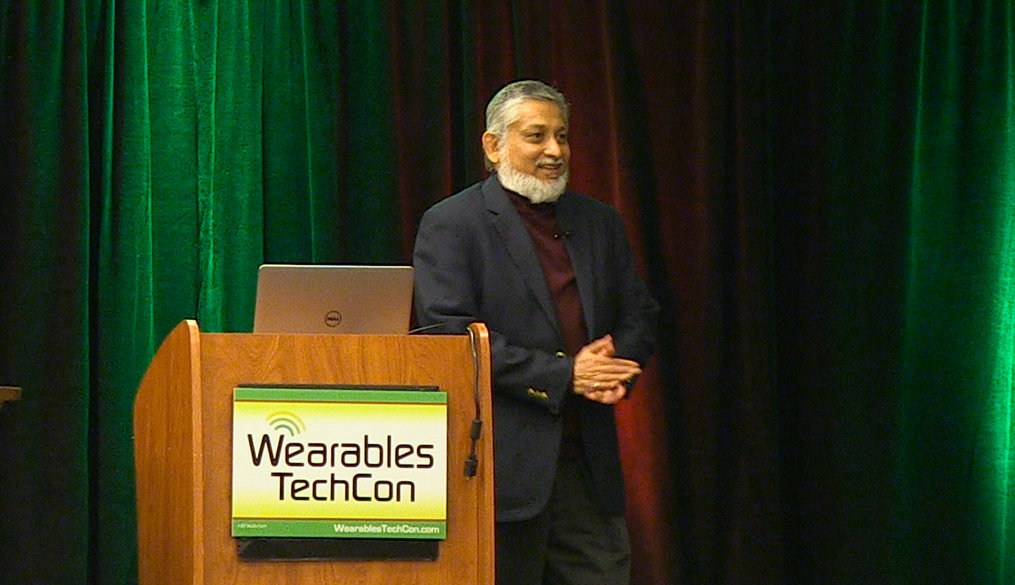 When Germany won the World Cup in 2014, it had a secret helper of a digital nature. Working with Adidas, the World Cup team integrated wearable sensors into its practice sessions to quantify player performance. The resulting victory may not have came only from the wearable sensors, but it's beginning to look as if player-based sensors and data analysis will be a big part of the future of sports.
Qaizar Hassonjee, vice president of innovation at Adidas, gave the keynote presentation at the Wearables Technology Conference today. He was a cofounder of Textronics, a textiles company that originated from DuPont's textile fiber research efforts.
When Textronics began working with wearable sensing devices, it was for use in the NFL. But when Adidas purchased Textronics in 2008, its focus shifted to soccer. Two years ago, Major League Soccer rolled out Adidas' miCoach Elite software and hardware to the entire league. As a result, the league's past two champions have also been the teams that captured the most player data.
Hassonjee said that Adidas began working with the German World Cup team in an iterative process that evolved according to the coach's desires. Using specially designed shirts with sensors embedded in the sides, each player wore a removable wireless sensor pack at the base of their necks.
Each miCoach Elite sensor pack included GPS, compass, heart rate sensors, accelerometer, and wireless transmission equipment. Hassonjee said that all of this data—captured in real time—means nothing, however, to a coach. Just as in enterprise business, it's the insights that matter, he said.
"We have the ability to talk to the best coaches and trainers," he said. "They said, 'Don't come back to me and give me all this data. Just give me the most important things.' It started out abstract: I want to make players better, I want to avoid injuries, I want to win."
The miCoach Elite system provides those insights, and gives coaches live data about their players' heart rates and speed, allowing them to determine who's playing the hardest, who needs a substitution, and who can work harder.
These insights have been extended to the consumer market through an array of other devices produced by Adidas. Hassonjee showed keynote attendees chest-mounted sensors that plug into a special sports bra, to watch-like devices that present not only workout information but also advice and coach-like suggestions.
The consumer line, known simply as miCoach, also includes a Smart Ball, a soccer ball with sensors inside that allow players to see how hard they're kicking and how far the ball has gone, thanks to GPS.
Hassonjee said that, while the miCoach has been a closed platform, it is now being opened up to developers so that they can bring in data generated by Adidas devices, or export data from other sensors into the miCoach platform.