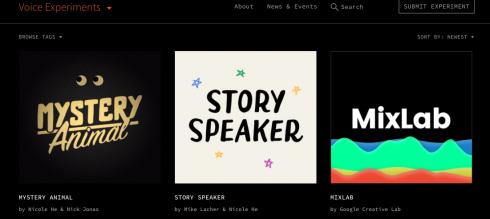 Google has created a new site to showcase developers that are using voice interaction in new and exciting ways. Voice Experiments showcases projects such as MixLab, Mystery Animal, and Story Speaker. These projects can be previewed through Google Assistant on phones, through voice-activated speakers such as Google Home, or through a web browser. Developers can submit their own projects though the Voice Experiments website, which is also where the current projects can be viewed and tested.
"Voice Experiments is a showcase of what's possible when you bring open-ended, natural conversation into games, music, storytelling, and more. These experiments were made with tools like Dialogflow and the Actions on Google platform, that make it easier for developers to create new voice experiences that work on devices such as the Google Home, or even right in the browser," the company wrote on its website.
CData Software releases new drivers for Redis
CData Software has announced the availability of new ODBC, JDBC, and ADO.NET drivers for Redis. These new drivers will provide several new features such as certified compatibility with the latest BI, ETL, and reporting solutions. It also supports the ANSI-92 SQL syntax across all drivers as well as nested queries and various SQL filters and formulas. In addition, these drivers have full support for create, read, update, and delete capabilities.
"Through this exciting new partnership with CData, our customers get access to seamless, high performance, scalable and secure integrations with leading BI solutions such as Tableau, Microsoft PowerBI and Excel." said Rod Hamlin, VP of global alliances and strategic partnerships at Redis Labs. "We evaluated several solutions, and ultimately CData's complementary performance characteristics, rich query engine, and innovative design features made them an obvious choice for us to partner up."
Testplant adds API testing to its Digital Automation Intelligence Suite
Testplant has announced API testing will now be part of its Digital Automation Intelligence Suite, which will allow for API testing to be done at the same time as user and performance testing. These capabilities have been included in the latest release of Testplant's Eggplant Functional product.
"We live in a hyper-connected, complex digital world where APIs are the glue that enable disparate platforms, apps, and software to connect and share data," said Antony Edward, CTO of Testplant. "For organizations looking to unlock the power of APIs to accelerate digital transformation, automated testing of the entire digital experience is now a prerequisite for success. As applications become more complex, incorporating multiple service layers, teams need to be able to automate API testing in conjunction with testing the front-end user experience."
FairCom releases latest version of c-treeACE database software
FairCom has released the latest version of its database software, c-treeACE. It will now allow for increased performance, dynamic schema management, full-text search, enhanced replication, robust interface support, and data integrity for SQL and NoSQL.
"In today's demanding and fast-paced business environment, a fast, efficient database technology is not a luxury, it is a necessity. c-treeACE enables companies to have a database that meets their unique business challenges," said Alysha Brown, FairCom's chief operating office. "c-treeACE V11.5 provides new capabilities to organizations that make their databases more powerful, giving them peace of mind knowing that their valuable data is being processed quickly and reliably."