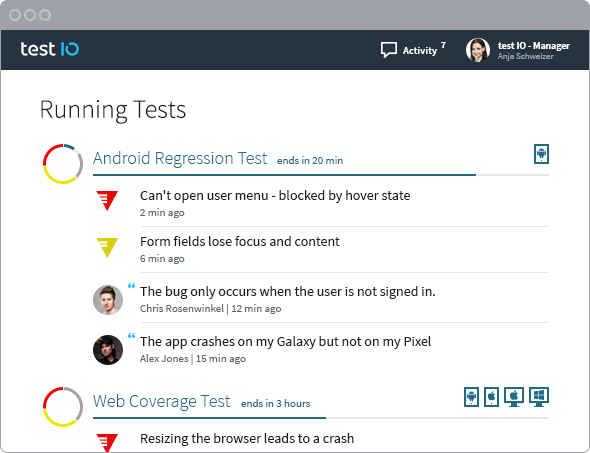 Crowdsourced testing company test IO today released enhancements to its platform to accommodate organizations doing continuous delivery of software.
"The agile movement is a reaction to development that was complex, late and wrong for the user when it shipped," said Phil Soffer, test IO CEO. The company was founded in Germany in 2011 to provide human insight into software. Test IO tries to "give people the exploratory testing they might get from customers testing their product, if those customers took screenshots of bugs and recorded them and reported them," Soffer said.
Among the enhancements in the test IO platform are Release Readiness, which uses build benchmarks over time to make sure code changes don't diminish the customer experience. It produces a scorecard that predicts the users' experience and an app store rating, according to the company.
Another of the enhancements, Rapid Testing, lets customers initiate tests and get results in as little as one hour. Also, the new Test Invocation API can be used to invoke tests "at critical points in the delivery pipeline, such as when code is pushed to a staging server or even to production," according to the news release announcing the platform enhancements.
In the DevOps world, organizations "need some input into business decisions that is human," Soffer said. "We really are able to deliver human insight at the speed that is demanded" by business and by today's pressures on development teams.
"Human creativity and machine-based automation [together] are better than a computer," Soffer said.