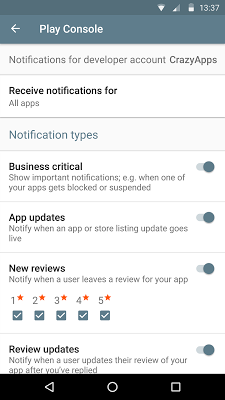 Google is giving Android developers new ways to stay informed about their apps. The company is updating the Google Play Developer Console app with new features for reviews and experiments.
"With over one million apps published through the Google Play Developer Console, we know how important it is to publish with confidence, acquire users, learn about them, and manage your business. Whether reacting to a critical performance issue or responding to a negative review, checking on your apps when and where you need to is invaluable," Kobi Glick from the Google Play team, wrote in a post.
The new features allows developers to get notified about new reviews, filter the reviews they want to see, review experiment results, and control the percentage of rollouts.
Toyota Research Institute partners with the University of Michigan on AI
Toyota Research Institute (TRI) is investing an initial US$22 million in the University of Michigan's (U-M) artificial intelligence, robotics and autonomous driving research. The funding is designed to advanced projects and address complex mobility challenges through AI.
"Our labs at U-M push the envelope of what robots can sense and understand about the world, and TRI provides an opportunity to apply these discoveries into real-world products," said Ryan Eustice, associate professor at U-M.
FreeBSD discusses vulnerabilities
Due to security vulnerabilities in freebsd-update, portsnap, libarchive, and bspatch of the computer operating system FreeBSD, both the FreeBSD Core team and FreeBSD Security team have updated the community that they are actively working to improve these issues.
As a general rule, the FreeBSD Security Officer does not announce vulnerabilities when there is no released patch, according to a letter from the FreeBSD teams. However, FreeBSD is now reviewing the policy for cases where a proof-of-concept or working exploit is already public.
The community was concerned that these vulnerabilities would expose users, but FreeBSD wrote that a user would need to be under an active "Man-in-the-Middle" attack when fetching patches.
Additionally the security team "is working on redesigning freebsd-update and portsnap to do signature verification on all downloaded files before they are processed by libarchive/tar, bspatch, or any other utilities," according to the letter. These changes require modifying the metadata format used in the utilities. Users will have the option to build/apply patches themselves.  
Swordphish public beta now available
Easy Solutions has released its Swordphish predictive phishing and malware risk assessment technology into public beta.
Swordphish is a technology that uses machine learning to understand key features that make up URLs or domain names, and analyzes them to make sure they are not corrupt.  Developers can also start using the Swordphish API, which allows customers to interact with the cloud-based service. Swordphish supports the JSON output format, and the API can be accessed through a URL via HTTP or HTTPS.
In addition, Swordphish consists of three machine learning classifiers that have been trained to recognize malicious URLs that are used by cyber criminals, and other fraudulent individuals.