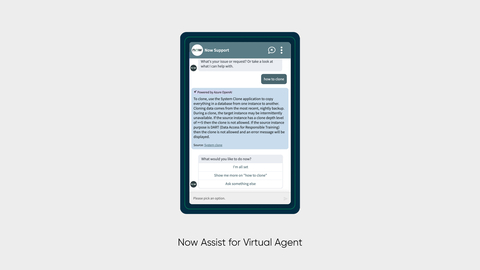 ServiceNow's Virtual Agent chatbot provides a conversational interface for users to perform self-service tasks. Now Assist for Virtual Agent will make the interactions even more intelligent and customers will be able to tackle more complex tasks.  
By incorporating generative AI, Virtual Agent will be able to provide more "direct, relevant, and conversational responses to questions." 
When a user asks a question, Virtual Agent will now provide additional information like internal pieces of code, product images or videos, links to documents, or summaries of knowledge base articles, ServiceNow explained. 
Customers can configure the conversational experience in Now Assist for Virtual Agent to suit the needs of their organization. This is accomplished in a drag-and-drop environment, Virtual Agent Designer.  
Customers can also embed direct access to large language models, such as Micrsoft Azure OpenAI Service LLM or OpenAI API, allowsing customers to interact with those directly if needed. 
This new capability was possible because of previous innovations in ServiceNow's Generative AI Controller and Now Assist for Search.  
"ServiceNow is leading the intelligence era. Years of AI investment have put us at the center of an undeniable movement," said ServiceNow Chairman and CEO Bill McDermott. "We're building generative AI into our platform so customers can maximize their ROI: 'return on intelligence.' This is all about thoughtful, high-trust co-innovation as we find the balance between machine speed and human judgment. Enhanced by our strategic partnerships with NVIDIA and Microsoft, we are engineering smarter, fully automated workflows. We help our customers innovate completely new business models on ServiceNow as the intelligent platform for end-to-end digital transformation."