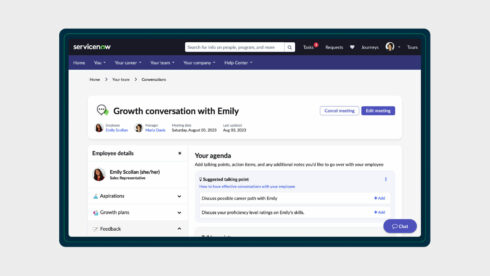 ServiceNow has announced new capabilities in the Vancouver release of the Now Platform to help companies address development skills gaps.
According to a 2023 survey from The Manpower Group, 4 in 5 companies struggle to fill the roles they need. They found that the skills gap is the largest it has been in 17 years. 
To address this, Now Platform Vancouver includes a feature called Employee Growth and Development (EDG), which uses generative AI to collect, validate, and update skills data on employees. This gives leadership a better picture of the skills within their organization so they can make better decisions. 
It also allows managers to create growth plans for their employees that align skills development with that person's career ambitions. 
"Both CEOs and CHROs know that skills are a core driver of every company's transformation. To enable this work at scale, technology has to keep pace. ServiceNow is leading the way with our Employee Growth and Development solution, harnessing AI to empower people to grow with more accessible, inclusive, and impactful opportunities, while providing leaders the transparency to see progress across the enterprise," said Jacqui Canney, chief people officer at ServiceNow. "This solution bridges the gap between employees' existing skillsets and the necessary actions for development, and propels organizational growth while unlocking everyone's full potential. It's not just a tool, it's how we will help reshape the future of workforce development, placing people at the heart of everything we do."
ServiceNow has also introduced AI into a number of its products across the Now Platform family: IT Service Management (ITSM), Customer Service Management (CSM), HR Service Delivery (HRSD), and Creator.
The Vancouver release also includes many other new things, like Software Bill of Materials (SBOM) management, which enables companies to manage cyber risk of third party applications. 
It also includes many security features, such as ServiceNow Zero Trust Access, which grants access based on risk parameters like location, network, user risk, and devices. Also, Third Party Risk Management now includes an automated risk questionnaire and due diligence workflows.