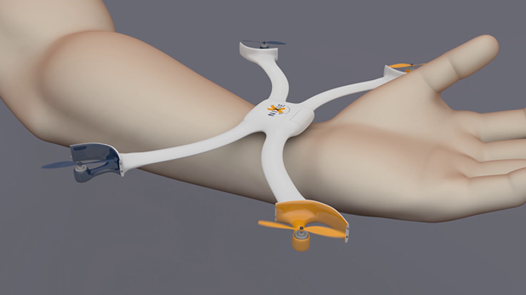 Nixie: The wearable drone
Imagine being able to take a picture while rock climbing, bike riding, hiking, snowboarding and more without having to miss a step. That's what Nixie aims to do. Nixie is a tiny wearable drone that lives on a user's wrist and, when launched, can fly around to take photos and videos before returning back to the user.
"Nixie takes the picture that you wish you could always have, but couldn't because you didn't want to stop the action," said Jelena Jovanovic, project manager of Nixie, in a video by the Creators Project.
Nixie is one of the Top 10 finalists in Intel's Make It Wearable Challenge, competing for US$500,000. It uses an Edison chip in order to track users and avoid obstacles.
CloudFlare launches Universal SSL
CloudFlare wants to make SSL encryption more accessible. The company just recently launched Universal SSL, making SSL encryption free to everyone.
"Yesterday there were about 2 million SSL-enabled sites active online," explained Matthew Prince, cofounder and CEO of CloudFlare. "By the end of the day today, CloudFlare will have rolled out free SSL to another 2 million—almost doubling the size of the encrypted Web. Universal SSL allows anyone to have state-of-the-art encryption without the expense and complexity it used to require."
SSL is the cryptographic technology securing the Web, and according to the company SSL, is often difficult to set up and configure. To access Universal SSL, all a site needs to do is sign up for CloudFlare's free service.
More information is available here.
Clasp: An open-source Lisp implementation for C++
Temple University chemistry professor Christian Schafmeister has developed Clasp: an open-source project born of the Common Lisp language that allows programmers to interoperate with C++.