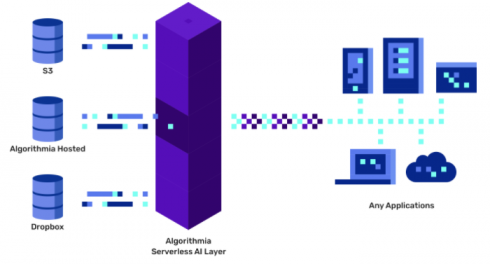 Algorithmia has announced the release of the Algorithmia AI Layer, a solution meant to automate and speed up the process of deploying artificial intelligence and machine learning models. Algorithmia AI Layer is available in as a serverless or enterprise solution. The Serverless AI Layer allows a user to add AI/ML models and use Algorithmia's API to host those models on Algorithmia's cloud. The Enterprise AI Layer allows users to deploy software to a public or private cloud and then add models and utilize those models with an API call.
"Every company with an AI strategy is going to need to build their own AI layer, which would take years and cost millions of dollars, or buy one," said Diego Oppenheimer, co-founder and CEO at Algorithmia. "Our view is that companies would rather buy a platform that works today, is supported by some of the world's leading tech companies and AI experts, and costs a fraction of what it would take to build their own solution."
TIBCO acquires Alpine Data for its social collaboration platform
TIBCO software has announced the acquisition of cloud-based data science platform, Alpine Data. Alpine Data is used by data scientists not only as an analytics tool, but also as a social platform that allows them to socially collaborate to solve challenges.
"Many of our most innovative customers use data science to beat their competition. As they grow, they need to harness those insights and share them with hundreds of citizen data scientists," said Mark Palmer, senior vice president of analytics at TIBCO. "Adding Alpine Data will help our customers get more out of their data science and machine learning investments, so they can act on the insights they discover more quickly than before."
Split announces feature experimentation platform
Split has announced a new solution for rolling out software features. The Split Feature Experimentation platform provides a secure method of rolling out software and monitoring and analyzing the impact of its features. Key features of this release include open source SDKs, feature flags, a management console, an intelligent results engine, and an intelligent security framework.
"Today's digital transformation – where software is core to every business more than ever before – requires enterprises to grow their software products and digital products quickly, seamlessly, and with little interruption to the customer," said Adil Aijaz, co-ffounder and CEO of Split. "Enterprises need access to real-time insights on how customers are interacting with their product. These insights need to relate back to the metrics that matter to company KPIs. The Split Feature Experimentation Platform enables any enterprise with the digital decision-making power of a technology leader. We can't wait to see how our customers use it to drive real value and change within their business."
SnapLogic adds new enhancements and product offerings
SnapLogic has announced new product offerings aimed at making it easier for low-code employees to do advanced data analytics. Products that have been enhanced include the SnapLogic Enterprise Integration Cloud and the SnapLogic Integration Assistant. It has also added new connectors, referred to as Snaps, such as the Amazon DynamoDB Query Snap and PySpark Snap, as well as added two new Snaps to Google BigQuery Bulk Load.
"IT professionals and line of business experts alike are demanding self-service technologies that will allow any user to bypass the roadblocks that often stand in the way of successful integrations," said Vaikom Krishnan, senior vice president of engineering at SnapLogic. "By focusing on enhancements that improve our platform's ease of use and continuing to expand our Snap support, we are providing our customers with the most efficient way to connect a wide array of enterprise applications, APIs, databases, data warehouses, analytics tools, IoT devices, and more."
GL Studio 6.1 released
GL Studio 6.1 has been released and features more than 150 enhancements. It has improved its Visual State Machine Editor and features an large product catalog. These new updates will help to make UI development more efficient. It also now supports Microsoft DirectX.
More information is available here.