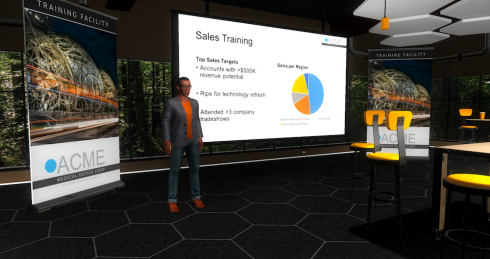 Amazon announced a new service at the AWS re:Invent Midnight Madness event. Amazon Sumerian is a solution that aims to make it easier for developers to build virtual reality, augmented reality, and 3D applications.
It features a user friendly editor, which can be used to drag and drop 3D objects and characters into scenes. Amazon has its own template of pre-populated scenes, but developers can also use their own objects or those from third-party repositories. 
Amazon Sumerian scenes will run on any browser supporting WebGL or WebVR graphics rendering, which means it can run on mobile devices, head-mounted VR displays, digital signage, and web browsers.
"Customers across industries see the potential of VR and AR technologies for a wide range of uses—from educating and training employees to creating new customer experiences. But, customers are daunted and overwhelmed by the up-front investment in specialized skills and tools required to even get started building a VR or AR application," said Marco Argenti, vice president of technology for AWS. "With Amazon Sumerian, it is now possible for any developer to create a realistic, interactive VR or AR application in a few hours."
Other features include: ability to design immersive VR, AR and 3D environments; ability to create animated characters powered by AWS AI services; and the ability to deploy apps to popular VR and AR hardware.