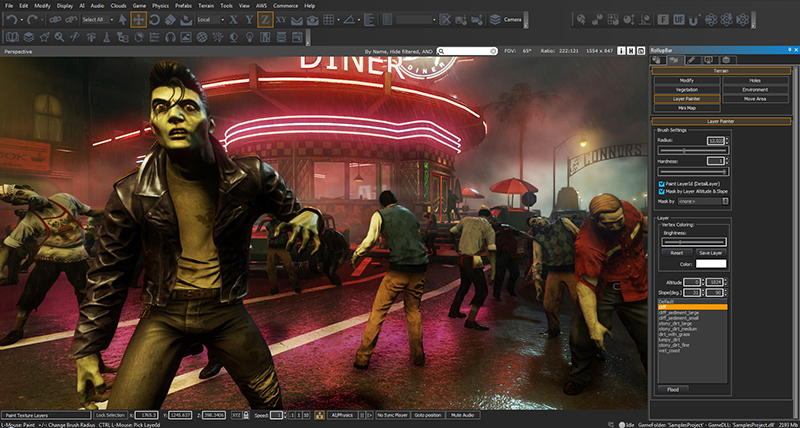 Amazon has announced that Amazon Lumberyard, a free, cross-platform 3D game engine for developers, is available to download in beta for PC and console developers. (Mobile and VR versions are coming soon.) Non-technical game developers can add cloud-connected features to a game through a drag-and-drop GUI, and other game developers can connect their games to storage in the AWS.
There are no seat or subscription fees, but developers will pay standard AWS fees for any AWS service they use.
The company is also announcing Amazon GameLift, a new service for deploying, operating and scaling session-based multiplayer games. Developers can deploy game servers across the AWS Cloud, connect players to games, and scale capacity up and down. Developers can also identify operational issues using GameLift's real-time reporting of server capacity and player demand. Amazon also has integration with streaming video service Twitch.
Today is Safer Internet Day
Safer Internet Day (SID) has returned this year with a new theme of "Play your part for a better Internet." From cyberbullying to social networking, SID aims to raise awareness of online issues. Some supporters of SID include AT&T, Google, LEGO Group, Microsoft, Scientix and Twitter.
A few organizations are doing their part today. Google, for instance, is giving away a permanent boost of 2GB of drive space for those who do a quick security check, which examines things like verification settings, account recovery information, and which apps have access to your Google account.
Meanwhile, Microsoft has listed the Top 10 ways to stay safe online. Some tips include keeping devices up to date, avoiding online scams, and keeping an eye on how kids use the Internet.
The IoT SDK from C-Labs
C-Labs, a provider of connectivity software for the Internet of Things (IoT), today announced its new Factory-Relay Internet of Things software development kit (SDK). The SDK will simplify different types of machinery, devices and sensors. It will also streamline the development of new applications to collect, store, analyze and act upon machine data.
"According to BI Intelligence, 82% of companies expect to deploy an IoT solution by 2017, yet are held back by concerns over threats to data or physical security," said C-Labs in a press release. The SDK could help companies securely connect equipment regardless of age or protocol, and to easily develop new applications using tools and technology familiar to enterprise application developers