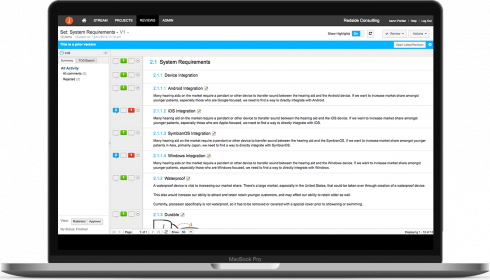 Call it predictive product development.
Jama Software wants to improve the process of software development by utilizing analytics to assess the performance of development teams and inform steps to continuous improvement.
To that end, the company today is announcing a rebrand of its platform, which is now called Jama Connect, and the availability of a new product, Jama Analyze, which offers analytics capabilities the company acquired when it purchased Notion in January.
Jama Connect enables organizations to tap into various systems and acquire information that can make product development more predictive. Jama Analyze "is the hub of all product development data," Jama CEO Scott Roth told SD Times. "It can capture raw data uploads from [such tools as] Pivotal Tracker, JIRA and GitHub, which provides an unprecedented level of insight for software and product development teams."
This collection and analysis of data regarding change requests, check-in, test creation and results, and more, enables strategic decision-making as part of the development process, Roth explained. That, in turn, improves time to market and provides a competitive edge. General-purpose BI tools, Roth said, don't serve product teams with the data they could be leveraging.
Jama Software was founded in late 2007, focused on requirements management and created software for collaborative requirements gathering, creation and management. That platform then evolved into a product development platform.
The pillars of the predictive product development platform include being driven by best practices for development and, in the near future, be able to compare projects over time as well as access benchmark and cohort data from other companies, he said.
Jama Connect doesn't displace the tools that product teams are already using; instead, it sits atop them all and integrates with systems to create what Roth called "the steel thread" along which process data flows.
Roth said that Jama best serves large-scale product and systems development. "There's so much data being generated that resides in those systems" and is not being tapped to help improve the development process. "If there is a high level of complexity, with multi-disciplined engineering teams working on next-generation medical devices, or satellites, radar … that's the sweet spot of who we engage with," Roth said. "The other side of that is mission-critical software and hardware that banks, insurance companies, are building to run the operations of their businesses. All of the companies are becoming software businesses. They need to have a system of record to guide their development processes from idea to launch and through maintenance."