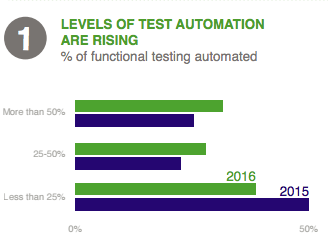 TestPlant has announced the results of its 2016 User Survey, finding that there is a clear increase in the use of automation and application-level load testing.
TestPlant gathered almost 200 eggPlant users, and according to those surveyed, test automation is increasing dramatically. The survey found that more than 60% of respondents said they have achieved more than 25% automation of their functional testing, with a third having achieved more than 50%.
This compares to last year's Accenture/PAC's Digital Testing in Europe report, which found 8% of companies achieving more than 50% automation. The survey also found that interest in application-level load testing is increasing (56%), which compares to the interest in load testing for the web (70%).
"Levels of test automation have remained static for many years, with most organizations automating less than 25% of their functional testing," said Antony Edwards, CTO of TestPlant. "But this year we have seen a clear shift toward increasing test automation among our customer base as it delivers clear value for organizations."
All of the results from the survey can be found here.
Software AG creates new IoT Analytics Kit
Software AG has released a new Internet of Things Analytics Kit available for free as part of the Open Source Software under the Apache License 2.0. This kit can also run on Raspberry Pi, and an alternate version of the company's Apama Community Edition is available, too.
The IoT Analytics Kit for Apama Community Edition comes with event-based, analytical microservices used to develop IoT applications. Some of the analytics include threshold breach, missing data, creating alerts, and the ability to calculate the normal range of numeric values.
The new version of Apama Community Edition allows developers to build their apps on top of the edition and then distribute their applications free of charge, said the company. Developers can also run Apama Community Edition on Raspberry Pi, and build streaming analytics applications, for example.
Developers can review the full list of features here.
Samsung discontinues the Galaxy Note 7
Samsung decided to take the blow and permanently discontinue production of the Galaxy Note 7 due to safety concerns. The tech giant's decision comes one day after it put a global stop on sales and exchanges of the defective smartphone.
According to Android Authority, Samsung confirmed the official discontinuation of the Galaxy Note 7 with South Korean regulators today. Analysts cited by Reuters said that Samsung, based on revenues of the 19 million Galaxy Note 7 units it expected to sell, lost US$17 billion.
With the discontinuation of the device, Samsung will lose a full half-year of flagship smartphone sales on top of the costs associated with the official recall, wrote Android Authority.
FreeBSD 11.0 release now available
The FreeBSD Release Engineering team announced the availability of FreeBSD 11.0, which is the first release of the stable 11 branch.
The engineering team wrote that users should consult the release notes before installing FreeBSD, as they were updated with late-breaking information discovered late in the release cycle. Some of the key highlights of this release include OpenSSH DSA key generation being disabled by default, OpenSSH updates to 7.2p2, and broader wireless network driver support has been added.
A complete list of new features and know problems can be located here.