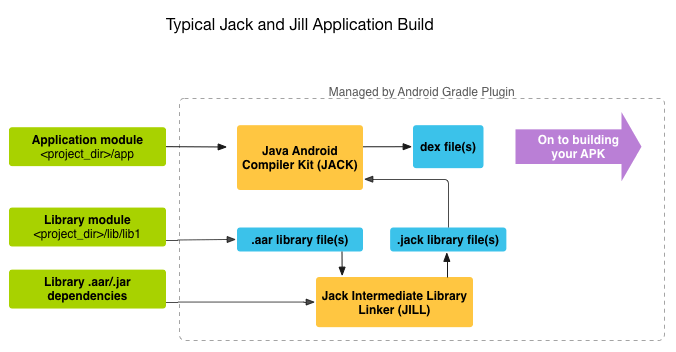 Google has officially announced its new tool chain for Android. The core of the new tool chain includes two tools: Jack and Jill. Jack stands for Java Android Compiler Kit, while Jill stands for Jack Intermediate Library Linker. Belgian mobile development software company Saikoa revealed the new compilers in the beginning of the month.
Google is releasing an experimental version of the tool chain for developers to start testing in non-production versions of their applications.
"We are attempting to make the toolchain as easy to test out as possible, and we're looking for your help to fine tune it," wrote Paul Rashidi, developer programs engineer at Google, on the company's blog.
More information about Jack and Jill is available here.
Ruby creator open-sources Streem concurrent scripting language
Ruby creator Yukihiro "Matz" Matsumoto has released Streem, a prototype of a stream-based concurrent scripting language influenced by Erlang, Ruby and other functional programming languages.
Streem is still in the design stage, and Matsumoto has made the language open source and available for contributions on GitHub.
Rust 1.0 release trains revealed
Version 1.0 of the Rust language will soon be released, and the Rust team has announced details of the release train schedule that will take effect in 2015.
Rust will transition to a six-week release cycle on Jan. 9, and it will produce the final version of Rust 1.0 at least two cycles afterward. The alpha release, also set for release on Jan. 9, is expected to give an accurate picture of what to expect in 1.0. The beta, set for release six weeks after the alpha, will focus on bugfixing, testing and polishing.
More information about the releases is available here.
GCHQ announces Cryptoy, a code-making app
GCHQ is looking to teach secondary school students and their teachers more about cryptography with an educational app it just released. Cryptoy is designed to educate students and teachers about basic encryption techniques, explain the challenges of creating secure cryptographic designs, and teach them how to break other designs thought to be secure.
"In particular, the Cryptoy app is a colorful, interactive way for students and their teachers to explore the fascinating world of cryptography," said Robert Hannigan, director of signals intelligence and cryptography at GCHQ. "The app was developed by GCHQ's industrial placement students and was trialed at a number of science fairs. I hope it will inspire further study of this key topic, which has played such an important part in our past and is an invaluable part of our future."
Oculus acquires Nimble VR and 13th Lab
Virtual reality headset maker Oculus has announced key computer vision acquisitions to the company's team: hand tracking company Nimble VR, and augmented reality company 13th Lab.
In addition, Oculus also announced Chris Bregler, an expert in motion capture software, will be joining the company's team.
"Nimble VR, 13th Lab and Chris will all be winding down their existing projects to focus on VR full time at Oculus as part of both product engineering and Oculus Research," the Oculus VR team wrote on the company's blog.