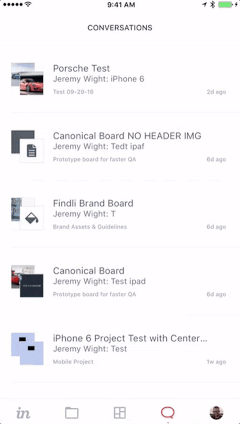 InVision has announced a new iOS mobile app for project control on the go. This release introduces the Conversations tab in the menu bar to make it easy to keep projects moving forward.
Conversations was in beta for several months, and now it is finalized, bringing with it a more user-centric experience and more collaboration for a real-time experience, wrote Jeremy Wight, an engineering manager at InVision.
Also, with the InVision app, teams can address feedback, resolve comments, and wrap up reviews in real time. The Conversations tab then moves all the activity around projects to a "central place," wrote content strategist for InVision Kayleigh Karutis.
The app is free and developers, and teams can review its features here.
KDE starts 2017 with Plasma 5.9
KDE released this year's Plasma feature update, bringing with it new features and continuous bug fixes.
Plasma 5.9 implemented switching between windows in Task Manager using Meta and number shortcuts for multi-tasking purposes, as this was a popular requested feature. The Quick Launch applet now supports "jump list actions, bringing it to feature parity with the other launchers in Plasma," according to an announcement.
This release also includes more streamlined visuals, global menus, an updated look and feel, and a new network configuration module.
Google's Android Developer Certification
Google wants to set a professional standard for Associate Android developers. The company is introducing Associate Android Developer Certification in order to recognize professional developers who prove themselves and uphold Google's standards. The program includes a performance-based exam as well as an exit interview. The exam will ensure a developer's skills by having them implement missing features and debug Android apps.
"Earning your AAD Certification signifies that you possess the skills expected of an Associate Android developer, as determined by Google. You can showcase your credential on your resume and display your digital badge on your social media profiles. As a member of the AAD Alumni Community, you will also have access to program benefits focused on increasing your visibility as a certified developer," wrote JP Souchak, program manager at Google, in a blog post.
CodeMeter Embedded 2.0
A new update to Wibu-Systems' runtime environment is expected to debut next month at Embedded World. CodeMeter Embedded is designed to support a variety of platforms and operating systems.
CodeMeter Embedded 2.0 will feature better performance, multi-interface support, OPC UA support, and TPM support.
"CodeMeter Embedded 2.0 was designed to meet the needs of industrial Internet manufacturers, provide extreme adaptability to the hardware requirements of the main infrastructure, and offer an advanced entitlement platform that opens the door to a multitude of after-sales models," said Oliver Winzenried, CEO and cofounder of Wibu-Systems.