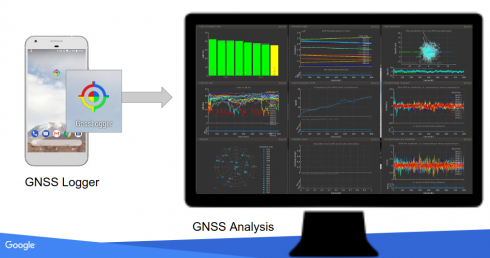 Google has announced GNSS Analysis Tools to analyze Global Navigation Satellite System measurements collected from Android Devices. The purpose of the tools is to determine how well the GNSS receivers have been working in different Android devices. It will use this data to improve device design and GNSS performance.
The application provides interactive plots which show the behavior of the RF, clock, and measurements. The tools support multi-constellation and multi-frequency.
"Our goal with providing these Analysis Tools is to empower device manufacturers, researchers, and developers with data and knowledge to make Android even better for our customers," wrote Frank van Diggelen in a blog post.
Toyota Research Institute and GoMentum Station sign agreement to test autonomous vehicles
Toyota Research Institute (TRI) signed an agreement with GoMentum Station to test its autonomous vehicle technology. The technology will be tested at a 5,000 acre autonomous vehicle testing ground in Concord, CA. The partnership is managed by the Contra Costa Transportation Authority (CCTA).
This partnership will allow TRI to expand testing of its Guardian and Chauffeur approach to vehicle testing. With the Guardian approach, the human driver maintains control, while the autonomous systems work in the background to monitor for potential accidents and intervene if necessary. With the Chauffeur approach, the automated system has full control of the vehicle.
"The benefits of driverless technology are many, but the most important one is increased safety. TRI's work in the artificial intelligence arena is vital to advancing autonomous vehicle technology," states Randy Iwasaki, executive director of CCTA. "The statistics are clear: lives will be saved by reducing a vehicle's reliance on human drivers, and we are excited to see the progress TRI will make to perfect driverless and driver-aided technology at GoMentum Station."
SmartBear Software announces release of ReadyAPI 2.2
SmartBear Software has announced the latest version of its API testing tool, ReadyAPI 2.2. The new version supports OpenAPI Specification 3.0. According to the company, this release will allow organizations to standardize on OAS 3.0 across the entire API lifecycle.
"OAS 3.0 is increasingly becoming the specification that is used by API practitioners as the single source of truth to drive standardization across the API lifecycle," said Christian Wright, EVP and GM, API Business at SmartBear. "We are proud to announce that with the latest update to ReadyAPI, SmartBear API tooling now supports OAS 3.0 across all phases of the API lifecycle."
Fugue announces new cloud infrastructure governance solution
Fugue has announced new capabilities to help users get the most value out of the cloud. The newly announced infrastructure governance solution allows organizations to adopt cloud and reduce the risks associated with relying on legacy cloud practices. It also allows organizations to create compliance at the beginning of the cloud infrastructure lifecycle and continue to assure compliance at later stages.
"We love that the federal government is embracing cloud automation, alongside commercial enterprise. Too often, the government lags industry in technology, but in this case, they are partners in innovation. History tells us that these alignments of public and private really drive strategic innovation, from the space program to the Internet," commented Josh Stella, Fugue Co-founder and CEO. "Our latest release shows that Fugue's holistic, proactive approach to cloud compliance, security and cost control is all about reducing complexity and operating costs, while helping organizations, including the federal government, deliver value, faster."