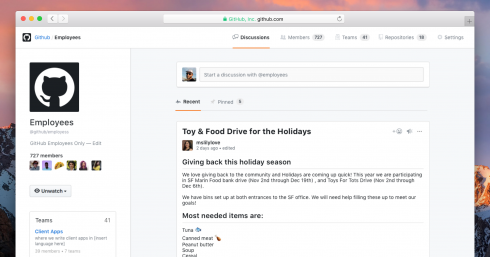 GitHub announced a new solution to talk to team members about projects, and share information. Team discussions provides a place for team members to have public or private discussions, get updates about what is going on, and stay up to date.
"Gone are the days of having your issues cluttered with discussions or your pull requests flooded with lengthy conversations that aren't related to your code changes. Team discussions give those conversations a home and a URL on GitHub, so they can be shared easily across the platform or saved to reference later," Katie Sipos,  GitHub staffer, wrote in a post.
MariaDB announces open source analytics solution 
MariaDB has announced new product enhancements to its analytics solution MariaDB AX. The latest version aims to provide a modern approach to data warehousing with fast, scalable analytics. Features include: improved data ingestion, bulk data adapters, a streaming data adapter for MariaDB MaxScale and Apache Kafka, custom analytics, and improved disaster recovery.
"MariaDB AX is a powerful, open source solution for performing custom and complex analytics," said David Thompson, VP of engineering at MariaDB Corporation. "In order to fully realize the power of big data, our customers need the ability to gather insights in near real time, regardless of where the data is coming from. With MariaDB AX, it's easier than ever to ingest and analyze streaming data from disparate sources, while ensuring the highest level of reliability through new high availability and backup capabilities."
MapR releases version 6 of its Converged Data Platform
MapR is taking on DataOps with MapR Converged Data Platform 6.0. The latest version features new solutions for security, database and automated administration across every cloud.
Key enhancements include: a new MapR Control System, database indexing, real-time data integration, single-click security improvements, self-service data science, artificial intelligence and machine learning for data analysis, and a new MapR Container for Developers.
"In 6.0, our platform's unique capabilities focus on three key areas in support of DataOps: automated cluster health and administration, security and data governance, and faster time to machine learning and analytics," said Anoop Dawar, vice president product management and marketing, MapR. "DataOps is an important movement, ultimately letting organizations turn their data into value as quickly as possible. We continue to evolve the MapR Platform to accommodate the needs of everyone involved with data: data scientists, operations personnel, and security practitioners."
Google Play Referrer API
Google is introducing a new API to help developers track and measure app installs. The Google Play Install Referrer API provides a reliable and secure way to retrieve install referral content, according to the company.
"Understanding how people find your app and what they do once they've installed it is crucial to helping you make the right product and marketing decisions. This is especially important when you're deciding your advertising strategy and budget," Neto Marin, developer advocate for Google, wrote in a post.