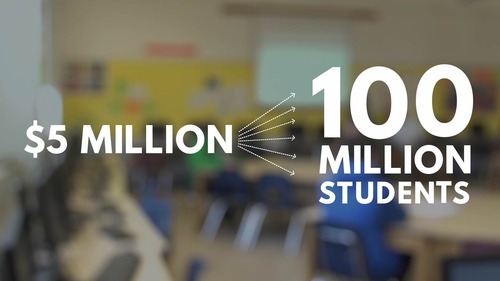 Code.org's crowdfunding campaign 
Code.org wants to teach 100 million students worldwide how to code. The organization's launched a 60 day initiative yesterday to raise US$5 million. The money would go to training 100 million students and 10,000 new teachers computer science, and every dollar will be matched.
Microsoft, Google, Salesforce.com, Omidyar Network, Quadrivium Foundation, Bill Gates, Reid Hoffman and Feroz and Erica Dewan have partnered with Code.org for the campaign and will help to match each donation dollar-for-dollar.
"All donations, regardless of the amount, help further our mission and allow us to reach more students. And because all gifts are matched by our largest donors, your support is leveraged for greater impact," the organization wrote on its Indiegogo campaign page.
The Women Entering and Staying in Tech (WEST) mentorship pilot
Facebook, Box and Pinterest have announced a mentorship program to help more women enter and succeed in technology roles.
"By bringing experienced women from top technology companies across the industry together, we hope to build and maintain a new kind of mentorship program informed by the kind of work women are doing day-to-day and the most exciting opportunities becoming available in tech," Facebook wrote in its announcement.
The 2015 WEST pilot of the program will include early to mid-career women in the Bay Area and focus on women in engineering, operations, product, design and Web development roles. Women from Box, Facebook and Pinterest will mentor the class of women over the course of a year.