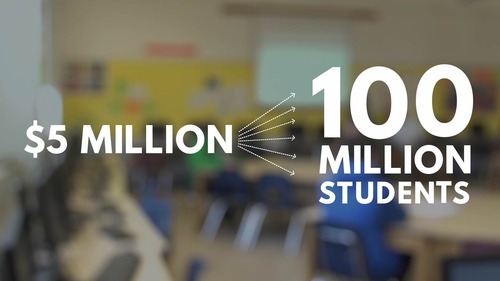 Code.org's crowdfunding campaign 
Code.org wants to teach 100 million students worldwide how to code. The organization's launched a 60 day initiative yesterday to raise US$5 million. The money would go to training 100 million students and 10,000 new teachers computer science, and every dollar will be matched.
Microsoft, Google, Salesforce.com, Omidyar Network, Quadrivium Foundation, Bill Gates, Reid Hoffman and Feroz and Erica Dewan have partnered with Code.org for the campaign and will help to match each donation dollar-for-dollar.
"All donations, regardless of the amount, help further our mission and allow us to reach more students. And because all gifts are matched by our largest donors, your support is leveraged for greater impact," the organization wrote on its Indiegogo campaign page.
The Women Entering and Staying in Tech (WEST) mentorship pilot
Facebook, Box and Pinterest have announced a mentorship program to help more women enter and succeed in technology roles.
"By bringing experienced women from top technology companies across the industry together, we hope to build and maintain a new kind of mentorship program informed by the kind of work women are doing day-to-day and the most exciting opportunities becoming available in tech," Facebook wrote in its announcement.
The 2015 WEST pilot of the program will include early to mid-career women in the Bay Area and focus on women in engineering, operations, product, design and Web development roles. Women from Box, Facebook and Pinterest will mentor the class of women over the course of a year.
More information is available here.
Google and Oracle's copyright fight
Google and Oracle have been battling over Oracle's Java APIs and whether or not they are subject to copyright. To refresh your memory, Oracle tried to sue Google in 2010 for using 37 Java APIs in its Android mobile operating system, which Oracle argued constituted patent and copyright infringement. In 2012, U.S. District Judge William Alsup ruled in favor of Google. Oracle appealed the ruling and earlier this year the U.S. Court of Appeals for the Federal Circuit in Washington ruled in favor of Oracle.
Now, Google is bringing the case to the U.S. Supreme Court, asking them to overturn the ruling, arguing that it must protect innovation in technology, according to Reuters.
"Early computer companies could have blocked vast amounts of technological development by claiming 95-year copyright monopolies over the basic building blocks of computer design and programming," Google wrote, according to Reuters.
ARM's Internet of Things operating system
ARM is providing a free operating system to help accelerate the development and deployment of Internet of Things devices. The ARM mbed OS for IoT ARM Cortex-M processor based devices provides security, communication, and device management features to allow developers to build product-grade and energy-efficient IoT devices.
"Deploying IoT-enabled products and services requires a diverse set of technologies and skills to be coordinated across an organization," said Simon Segars, CEO of ARM. "ARM mbed will make this easier by offering the necessary building blocks to enable our expanding set of ecosystem partners to focus on the problems they need to solve to differentiate their products, instead of common infrastructure technologies. This will accelerate the growth and adoption of the IoT in all sectors of the global economy."
More information is available here.