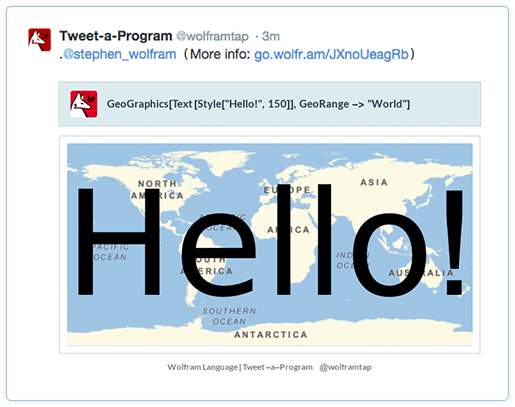 Wolfram launches Tweet-a-Program
Stephen Wolfram has announced a new Wolfram Language program, Tweet-a-Program, which allows users to compose a tweet-length Wolfram Language program. Once it's composed and tweeted to @WolframTaP, the company's Twitter bot will run the problem in the recently announced Wolfram Cloud and tweet back the result.
"In the Wolfram Language, a little code can go a long way," Wolfram wrote on the company's blog. "When I first came up with Tweet-a-Program, it seemed mostly like a neat hack. But what I've realized is that it's actually a window into a new kind of expression—and a form of communication that humans and computers can share."
More information about the program is available here.
Next generation of Android to offer default encryption
According to the Washington Post, the next generation of Android, expected to be released next month, will come with default encryption.
"For over three years, Android has offered encryption, and keys are not stored off of the device, so they cannot be shared with law enforcement," said company spokeswoman Niki Christoff to the Post. "As part of our next Android release, encryption will be enabled by default out of the box, so you won't even have to think about turning it on."
Pictures, videos and any communication stored on the phone will only be accessible if a person enters the device's password correctly, according to the Post.
Microsoft announces Vagrant support for Modern.IE
Microsoft's interoperability, browser and cross-platform testing initiative for Internet Explorer is adding support for Vagrant. Vagrant is a development environment that allows developers to automate the setup and configuration of their development environments.
"As a result, we've made available the VirtualBox versions of Modern.IE's test VMs for Vagrant users in beta form so that they can automatically download and lay out those images for development and testing purposes," the company wrote on its blog.