Wolfram launches Tweet-a-Program
Stephen Wolfram has announced a new Wolfram Language program, Tweet-a-Program, which allows users to compose a tweet-length Wolfram Language program. Once it's composed and tweeted to @WolframTaP, the company's Twitter bot will run the problem in the recently announced Wolfram Cloud and tweet back the result.
"In the Wolfram Language, a little code can go a long way," Wolfram wrote on the company's blog. "When I first came up with Tweet-a-Program, it seemed mostly like a neat hack. But what I've realized is that it's actually a window into a new kind of expression—and a form of communication that humans and computers can share."
More information about the program is available here.
Next generation of Android to offer default encryption
According to the Washington Post, the next generation of Android, expected to be released next month, will come with default encryption.
"For over three years, Android has offered encryption, and keys are not stored off of the device, so they cannot be shared with law enforcement," said company spokeswoman Niki Christoff to the Post. "As part of our next Android release, encryption will be enabled by default out of the box, so you won't even have to think about turning it on."
Pictures, videos and any communication stored on the phone will only be accessible if a person enters the device's password correctly, according to the Post.
Microsoft announces Vagrant support for Modern.IE
Microsoft's interoperability, browser and cross-platform testing initiative for Internet Explorer is adding support for Vagrant. Vagrant is a development environment that allows developers to automate the setup and configuration of their development environments.
"As a result, we've made available the VirtualBox versions of Modern.IE's test VMs for Vagrant users in beta form so that they can automatically download and lay out those images for development and testing purposes," the company wrote on its blog.
In addition to Vagrant support, Microsoft has partnered with Parallels to make Modern.IE VMs available within Parallel's new VM wizard directly.
More information is available here.
Sony and Qualcomm release augmented and virtual reality SDKs
As other large tech companies gear up augmented reality offerings to take on Google Glass, two of them—Qualcomm and Sony—are getting developers involved.
Sony has launched a developer preview of its Smart EyeGlass SDK for building apps for its Smart EyeGlass platform, set for release sometime in 2015. The eyewear wirelessly connects to Android devices to superimpose information in the user's eye line.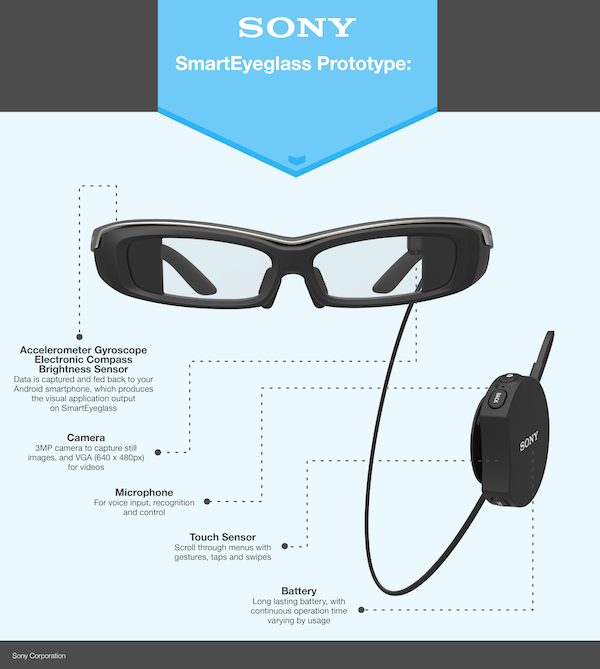 Qualcomm also announced a wearable SDK, rolling out its Vuforia SDK for digital eyewear. The SDK enables developers to integrate mobile content with a calibration method to adjust to a user's eyes before delivering stereoscopic 3D content. The hybrid VR/AR mobile development SDK is compatible with the Samsung Gear VR Innovator Edition, digital eyewear platforms such as Epson Moverio, and Qualcomm's own ODG R-7 digital eyewear product.
More information can be found on Sony's and Qualcomm's blogs.
Microsoft shuts down its Silicon Valley research lab
Microsoft's Silicon Valley research lab is one of the latest victims in the company's most recent round of job cuts. Derek Murray, a Microsoft researcher, broke the news on his Twitter account yesterday.
"Well, so long Microsoft Research Silicon Valley. It was nice while it lasted," he tweeted. "Today they announced that the lab in Silicon Valley will be closing, effective Friday."
According to Reuters, Microsoft has confirmed the move and said that the shutdown will include the loss of 50 jobs. This is the second wave of cuts after Microsoft CEO Satya Nadella announced his plan to lay off 18,00 people.
Simply Secure launched
A new organization dedicated to improving the usability and safety of open-source tools has been launched. Simply Secure looks help people secure their online lives.
"Internet software links us to our friends, allows us to transact across oceans, and forms a digital space for culture and society," the organization wrote on its blog. "Because these technologies provide forums for sensitive discourse and expression, we are all concerned about their security and privacy—but don't always know what to do about it."
The organization will work to build trust and ensure quality outcomes by performing public audits of interfaces and code.
"This will help validate the security and usability claims of the efforts we support," it wrote.
More information is available here.
SAP buys expense software company Concur Technologies for $7.3 billion
Enterprise software giant SAP has announced a US$7.3 billion acquisition of Concur Technologies, a software company that produces on-demand employee spending-management solutions.
According to the company, SAP will increase its cloud user base from 38 million to approximately 50 million concurrent users, expanding its cloud computing portfolio and reach into an area of enterprise finance it was not previously a major player in.
"SAP now has a business network that is 75% bigger than Amazon, eBay and Alibaba combined," said SAP CEO Bill McDermott.
According to
Reuters
, the Concur board of directors has unanimously approved the transaction, which is expected to close in the fourth quarter of 2014 or the first quarter 2015. SAP will offer $129 per Concur share as part of the deal.