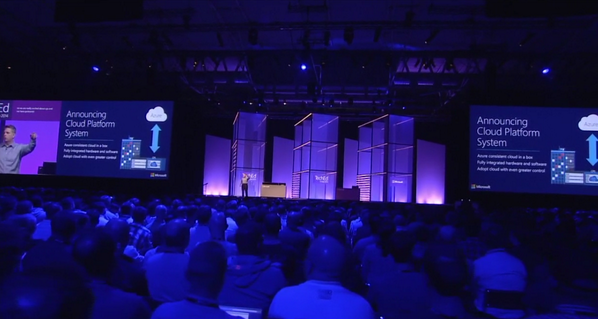 Microsoft announces more Azure updates at TechEd Europe
Little more than a week following its Azure press event, Microsoft introduced new services including Azure Batch, Azure Operational Insights and Azure Automation at theTechEd Europe conference in Barcelona, Spain.
According to a blog post from Microsoft Azure product marketing director Vibhor Kapoor, Azure Batch delivers job scheduling-as-a-service to enable the running of  large-scale parallel and high performance computing work in Azure. Kapoor gave example use cases including  calculating financial risk, designing new  products, sequencing genes and developing new drugs, searching for new energy sources and rendering 3D animations. Another service announced is Azure Operational Insights, an operations management and intelligence service that integrates across System Center and leverages Azure and HDInsight to analyze machine data across environments. Azure Automation, according to Kapoor, orchestrates frequently repeated tasks across Azure and third-party systems.
Other TechEd Europe announcements included WebJobs, a Microsoft Azure Website feature that runs multiple programs, services or background tasks in a single or multiple instances, with the ability to customize deployment, remote debugging, load balancing and auto-scaling. Microsoft also detailed new security services for Azure, such as Microsoft Antimalware for cloud services and virtual machines, to identify and remove malware using real-time and on-demand scanning an diagnostics. New Network Security Groups also provide customizable security policies , and new forced tunneling enables mandated traffic through a restricted site-to-site tunnel to ensure compliance with security requirements.
More information on all Microsoft's TechEd Europe announcements can be found in Kapoor's blog post as well as a blog post from Scott Guthrie, EVP of Microsoft's cloud and enterprise group.
IBM introduces new OpenStack and cloud data services
IBM announced further efforts to bolster its cloud, rolling out IBM Cloud OpenStack Services and a new generation of data services.
IBM Cloud OpenStack Services is designed and built for DevOps environments to enable faster development and higher quality deployments, providing software defined networking in a managed OpenStack service deployed on the IBM SoftLayer Infrastructure-as-a-Service platform. Available in the IBM Cloud Marketplace, the OpenStack services enable better interoperability between existing IT systems and off-premise cloud workloads in a hybrid cloud model. Along with the OpenStack services, IBM also announced Object Storage-as-a-service on Bluemix, IBM's open Cloud development platform.
On the data services front, IBM unveiled several services hosted on BlueMix to simplify and automate data processing, storage, curation and analytics. The services include:
· IBM DataWorks– A set of cloud-based data refinery services enabling enterprises to leverage data for analysis and app developers to embed data services into their applications
· IBM dashDB– A cloud-based data warehousing and analytics service with in-memory technology built-in for time-sensitive analytics, integrated with Cloudant, IBM's NoSQL database as a service to embed analytics in applications
· IBM Cloudant– Cloudant Local is an on-premise edition of the fully managed cloud database-as-a-service that enables a fluid hybrid cloud data layer spanning private data centers, mobile devices and third-party cloud providers.
IBM's final announcement was of Watson Curator, a SaaS that uses Watson's machine learning and natural language query capabilities to guide experts in various subject matters through curation of data pertaining to their given field.
More information can be found in the IBM news releases on OpenStack services and cloud data services.
Microsoft announces Internet Explorer and Skype development on the ORTC API for WebRTC
Microsoft is taking another step towards enabling real-time  communication on the Web with a push to development and support the Object Real-Time Communications (ORTC) API in Internet Explorer and Skype.
Answering the W3C's "Call for Implementations," the IE and Skype development teams have begun building the capability for scalable multi-party video conferences in the browser, on top of Skype and Microsoft Lync, according to the ORTC specification laid out by the W3C and IETF RTCWEB Working Group.
"We are working with the web community on various fronts to influence how a subset of ORTC objects and methods become part of the WebRTC 1.0 API," wrote Shijun Sun, Internet Explorer senior program manager, in a blog post. "This helps to provide a seamless transition from WebRTC 1.0 to a JavaScript object-based real-time communications model based on ORTC."
(Related: WebRTC specifications advance)
"This is just the beginning of our implementation effort in IE," Sun wrote. " We're working closely with the web community to improve other existing standards for richer video interoperability, for example, features to adapt to changing bandwidth conditions and more.  In addition, Microsoft's goal is to move forward to the future without compromising the present – and ensure easier interoperability between web browsers and billions of existing communications endpoints, including SIP-based VoIP endpoints, 'Public Switched Telephone Networks' and 'Video Teleconferencing' systems."
More information is available in Sun's blog post.