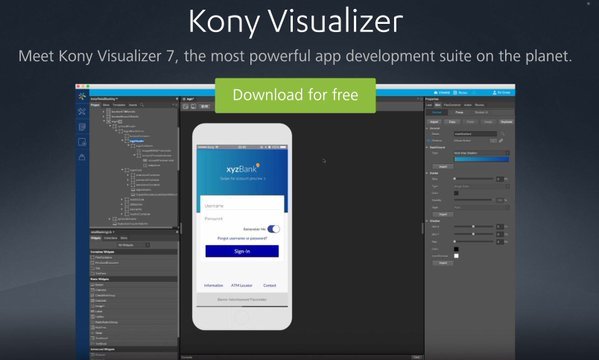 Kony, a mobile development company, today announced an update to Kony Visualizer, the visual application design and development part of Kony's Mobility Platform.
The new release of the cloud-based Kony Visualizer 7.0 includes updates to simplify and accelerate the mobile app development process, allowing users to build connected, omnichannel apps for phone, tablet, Web or connected devices.
The release enables cross-platform mobile app development. It also supports voice input for Apple Watch apps or intelligent control of smart homes using new Internet of Things capabilities.
Benefits of Kony Visualizer 7.0 include cross-platform design and development, integrated API development, business and IT collaboration, and more.
Kony is offering two versions of Kony Visualizer: a Starter edition and an Enterprise edition. More details are available here.
High school girls win Meteor Web Development Scholarship Program
Meteor, an open-source Web application framework, announced the winners of the Meteor Web Development Scholarship program. The program was made possible because of a partnership with the Flatiron School, a coding academy in New York City. It awards 15 full-ride scholarships to high school age girls with diverse backgrounds.
From April 4 through June 24, these girls will be enrolled in the Flatiron School's intro to Web development and design program, where they will learn about HTML5, CSS3, JavaScript, and UI/UX design.
Alexandria Ang, a winning student from The Bronx High School of Science, had this to say about coding: "Many people believe that Web development is just one skill. Contrary to popular belief, it's actually a ton of brain-building skills jumbled together. When you learn how to code, you unlock an entire kingdom of opportunities and skills that you never knew were related to coding at all. This intrigued me, and the enigma of coding really got to me."
Meteor said that this program opens the doors to new opportunities for women, and maybe one day they will come back to work at Meteor, according to a blog post.
Google adds new section to transparency report
Google has added a new section to its transparency report, giving users a running tally of how many Google requests use HTTPS encryption. Groups like the Electronic Frontier Foundation have been pushing for increased use of HTTPS, but the implementation has been demanding, especially for companies like Google, reported Re/Code.
Google's goal with this project is to encourage others to encrypt and to overall make the Web safer for everyone, said the report.
Roughly three-quarters of requests from Google products use SSL. Products like Gmail and Drive require SSL encryption, which powers HTTPS, for security reasons, but it's less important for casual products like Maps or News. Google figures show SSL usage growing gradually more encrypted over the past two years, said the report.