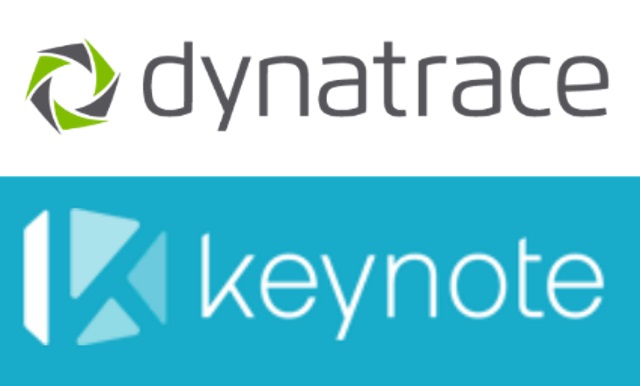 Dynatrace's chief marketing officer Nicolas Robbe described walking through the company's Boston office into an open, rounded room with bright screens lining the walls all displaying cloud infrastructure and applications. As DevOps and business stakeholders have grown more aware of and reliant upon the detailed data afforded organizations through application performance-management tools, this "cockpit," as he described it, is the next evolution of the Application Performance Management space.
Robbe sees the company's recent merger with online performance monitoring and analytics company Keynote as a way for Dynatrace to expand the scope of APM beyond pure Dev and Ops.
(Related: DevOps and business forge a new definition of APM)
Dynatrace is repurposing Keynote's platform and core idea of "digital performance intelligence" to offer business stakeholders different angles on application and website data. Robbe detailed use cases such as competitive site comparisons, real user insights, and the concept of a "customer experience index" transformed as part of this cockpit or control room for managing and optimizing the digital performance metrics and user experiences defining many organizations' modern business models.
"As organizations offer services for a digital channel, yes their application might be running fine and their network might be okay, but are their users actually having a rewarding experience?" said Robbe. "Until now, there hasn't been a good way to measure that. APM has tried to measure the 'health' of an application as an indicator for user experience, but there is such a complex chain now between your code and your back-end application."
Robbe described how a user swiping through an app on his or her smartphone is interacting under the surface, not solely with the application itself. They're also interacting with a mobile network, a content delivery network, a cloud-based server or Node.js application, and third-party APIs, advertising services and social media login integrations.
"This very myopic view APM had of the application is not a good proxy anymore for understanding and delivering a good user experience," said Robbe. "It's the data you collect from the application and from testing that app in the cloud that gives you an accurate understanding of which elements have issues along that complex chain.
"Keynote brings this outside-in view. Combining their cloud with ours, we now have this accurate testing cloud with thousands of physical locations with active agents to test out functionality on a mobile app or website. You get this view of the real user as they're coming in."
Dynatrace and Keynote are both companies in the Thoma Bravo portfolio, the private investment equity firm that acquired former Dynatrace parent company Compuware in September 2014, then spun the APM business off from it in December 2014 under new CEO John Van Siclen. Those underlying financial ties made the Dynatrace/Keynote merger that much easier. Current Dynatrace and Keynote customers can now utilize the products and services of both companies at no extra cost.
According to Robbe, the first combined product offerings leveraging both sets of APM technologies with new capabilities will be announced within 90 days. Keynote customers can already integrate with Dynatrace's PurePath technology and dashboards for end-to-end application transaction tracing. The companies are also working to integrate Keynote's Insights service that provides performance reports for business and marketing teams.
The merger of these two established APM providers has the potential to reshape the landscape. Robbe said that cockpits providing real-time visibility into these increasingly crucial "digital layers" of a business will define the players in the APM market going forward.
"This [merger] is going to reshape APM," said Robbe. "It's one of those spaces like when EAI [enterprise application integration] became BPM [business process management]. When hypervisors became the cloud. There's a moment where you take a space that's well established with proven technology, and all of a sudden there's this business context to make that technology essential.
"Most of the applications and digital channels out there are still underserved from a monitoring perspective, and at the rate at which apps are being created, we're still playing catch-up. There is such a need for this digital cockpit that I see APM becoming this essential enabler for not just digital performance, but the management of your digital environment from a technical performance, a business and a user experience perspective."