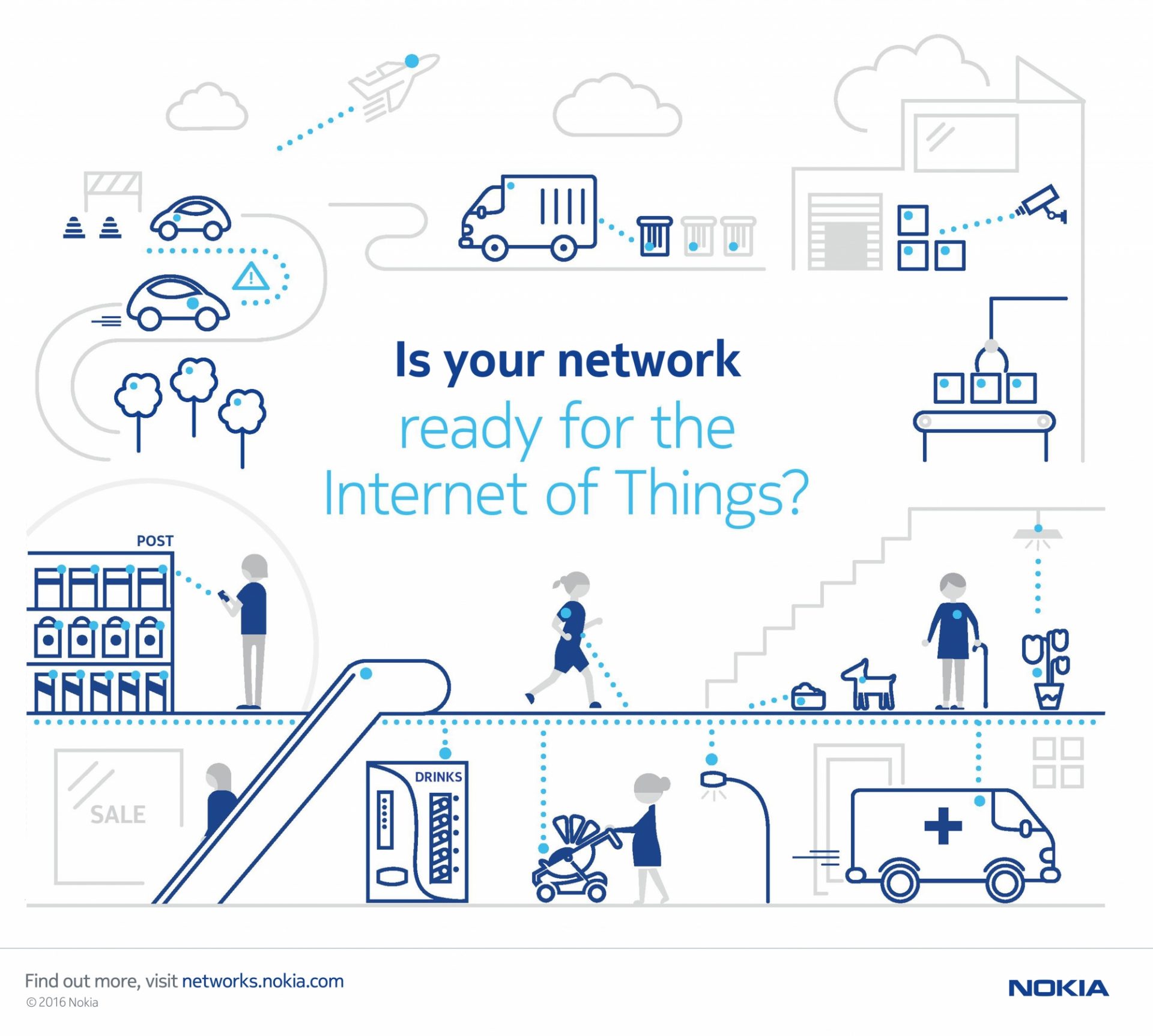 Since the Internet of Things is opening plenty of opportunities for businesses, Nokia created a complete solution for operators to simplify the management of millions of IoT device connections, and to help them with the development of IoT applications.
Nokia is now building an ecosystem around IoT. Its portfolio contains radio, which will optimize LTE and TD-LTE cell capacity. The portfolio also contains Core for IoT, which drives down the total cost of ownership for IoT solutions. It also allows for a business mix of high average revenue per connection (ARPC) and low ARPC IoT traffic, according to the company announcement.
The Connectivity Management part of the portfolio allows operators to manage the large amount of connections from sensors and devices. This is useful for when they use SIM connections, because it offers flexible deployment and selectable modules like billing, mediation and CRM.
Also, Nokia's IoT community engages organizations and allows industries to discuss new business models for IoT and how IoT solutions can help with business value.
Developers and business can check out the full portfolio from Nokia today.
SmartBear introduces Collaborator 10.0
A major revision to SmartBear's Collaborator tool was released today. Collaborator 10.0 introduces community, team and enterprise editions to serve software development teams, no matter the size.
With Collaborator 10.0, teams can see have integration with Microsoft Visual Studio, IBM Rational Team Concert and the ability to review Microsoft Word and Adobe PDF files, which will allow teams to collaborate throughout the application life cycle.
"This major release of Collaborator 10.0 delivers new functionality including full integration with Visual Studio, which makes review creation and participation very easy," said Justin Collier product owner of Collaborator at SmartBear.
Collaborator 10.0 also includes support for preferred IDE for Windows, .NET and C# developers. Collaborator is available today.
Google adds new experiences
Google announced that it is adding new experiences to the Google Apps suite. With Search and Sites, the goal is to create a more connected and collaborative enterprise, according to the company.
Google announced a new way to bring machine intelligence to the web search engine with Google Springboard. Springboard is capable of searching Google Apps like Gmail, Calendar, Docs, Drive, Contacts, and others. It can also provide recommendations and information as needed.
Google Sites has been rebuilt, making it easier for employees to share information with other people in their company. It now includes themes and layouts designed for any screen, and functional pages that are similarly optimized for any screen. Those who are an admin of a company that runs on Google Apps for Work can express their interest in the Google Springboard Early Adopter Program or the Google Sites Early Adopter Program.