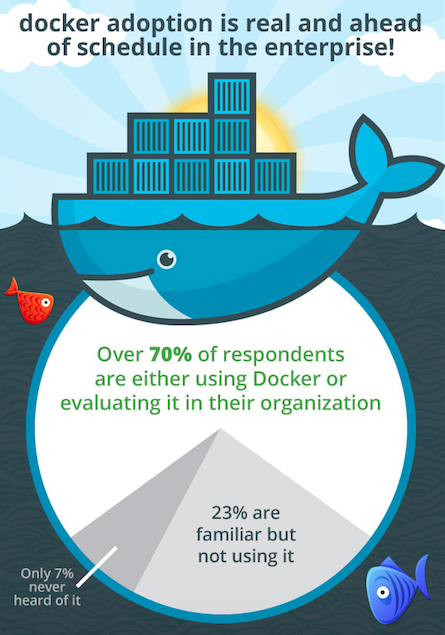 As Docker and application container software become more widespread in deployment automation, enterprises are jumping on the bandwagon in droves.
Docker automation startup StackEngine published the results of its inaugural "State of Containers" survey, polling 745 respondents in the enterprise virtualization and cloud computing space. The survey found that 70% of respondents' organizations are either evaluating or using Docker in some combination of testing and QA, development or production.
According to the survey, the other 23% of enterprises are aware of Docker and are not using it, and only 7% of respondents were unaware of Docker altogether. Of the enterprise organizations using Docker, 63% are currently running at least a portion of their containers in testing and QA, 53% are using Docker in development, and 31% plan to use it in production. Test and QA applications, Big Data applications and Web-facing applications are the most targeted Docker production use cases.
Breaking down the enterprises surveyed, approximately 40% of respondents' organizations are running in public cloud environments, with approximately 34% using private cloud infrastructures. The survey showed a fairly even mix of Linux, Windows, bare metal and OpenStack distributions, with more than 65% of respondents listing VMware as their cloud-computing environment.
"Docker appears to be taking on the establishment in a different direction from that of Cloud technology, which has in large part been a top-down driven technology over these last number of years and pushed in large part by executive CIO initiatives or financial management," the StackEngine analysis stated. "Instead, according to the survey results, Docker usage is being driven in large part from the middle out, with nearly 47% responding that Docker decisions are being made by middle management, and another 24% by Grassroots efforts."
Docker's pronounced enterprise growth is not without its challenges, though. Forty-nine percent of respondents identified both a lack of operational production tools and shortcomings with Docker's security as the biggest obstacles to adoption. On the security front, the growing open-source community and organizations including Red Hat are working to fortify the container technology.
StackEngine has produced an infographic illustrating its findings in the survey. The full "State of Containers" survey is available on the StackEngine website.