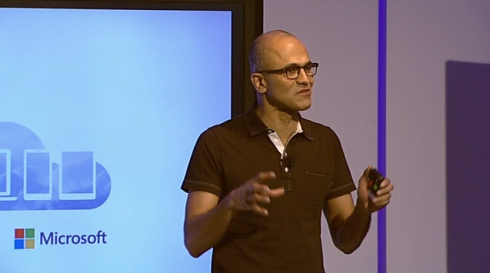 Microsoft announced its fourth-quarter earnings last night, revealing an 18% revenue increase year-over-year to US$23.4 billion.
The financial results were mixed but positive, with a decrease in overall profits along with the upped revenue. Microsoft benefitted from the continued and growing success of its Azure and Office 365 enterprise cloud services. In terms of devices, Nadella's "mobile-first, cloud-first" mantra has not yet translated to profit for Windows Phone or Surface tablets. The $2 billion in revenue added in the Nokia acquisition was essentially canceled out by poor margins.
(Related: What Microsoft's massive layoffs say about the company)
Investment banking corporation FBR Capital Markets is maintaining its stance that Microsoft will outperform projections, based on better than expected operating expenses, its handling of the Nokia integration, fewer headwinds or obstacles to growth for the PC, and an almost 150% revenue increase in its cloud offerings. FBR analysts Daniel Ives and James Moore believed Microsoft's financials show Nadella is on the right track as CEO.
"In our opinion, we view Microsoft's June-quarter results as another step in the right direction and believe Mr. Nadella is earning his stripes as the stage is set for improved top-line growth and profitability, with Nokia now under Microsoft's hood and the restructuring plan underway," Ives and Moore wrote in a report. "We think Mr. Nadella is looking to make sure he has the right people in the right places to deliver healthy top-line growth for the coming years while holding operating margins near the 30% threshold, which, we believe, is key."
FBR is lowering its next revenue estimates slightly from $23.3 billion to $21.8 billion, based on lower expectations for the hardware business and financial hits related to restructuring and employee severance packages. But its full-year estimates for 2015 have increased.
Other topics covered during the earnings call included a solid quarter for Windows with a 3% revenue increase in Windows OEM. Nadella pointed to low-cost OEM licenses and budget laptops and tablets as a driver for the market growth, along with officially announcing his long-rumored plans that the next version of Windows will unify all major versions under one operating system.
(Related: All major versions of Windows to merge into one)

While reactions to Microsoft's more than 18,000 planned layoffs (of which a large portion is comprised of factory and professional workers from the Nokia acquisition) have been mixed, the FBR analysts see the layoffs as a necessary evil, with their 27.7% operating margin indicative of a fiscally responsible stance that will attract investors.
"We believe all eyes will be on the company's impressive operating expense guidance on the heels of the Nokia acquisition, as investors are digesting results this morning," said Ives and Moore. "Despite an intensely competitive environment the company faces in the mobile phone space, we believe plans for tight cost controls speak to Mr. Nadella and Co.'s necessary restructuring efforts in an attempt to make Microsoft a 'leaner and meaner' technology giant over the coming years."
Microsoft's full Q4 earnings report has more details.