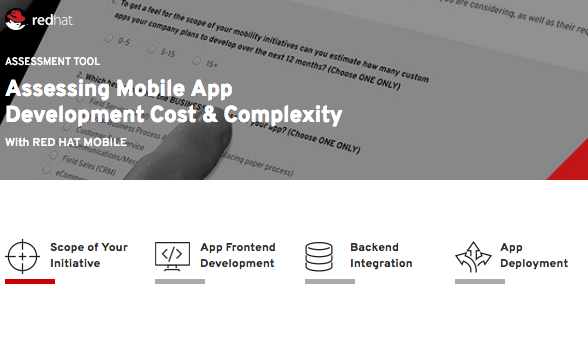 Deciding to create a mobile application is more difficult than it sounds. Red Hat Mobile today is releasing a new Mobile App Assessment Tool to give businesses an overview of the complexities and resource requirements involved in a mobile application strategy.
According to Clare Grant, general manager of Red Hat Mobile, the purpose of the tool is to get individuals on both the business and IT side to understand the complexity of mobile app development, and have them consider areas of mobile application development that they might not have thought of before, she said.
In particular, this tool helps teams that may not understand the level of complexity involved in developing a mobile application, said Grant. While the user interface and look and feel of the application is important to a mobile user, sometimes it's the backend or scalability of the application that makes it successful. Red Hat's assessment tool can help teams determine these nuances involved in mobile app development, she said.
Before getting started with the Mobile App Assessment Tool, it will ask the individual to identify the business use cases for mobile development, and consider each mobile application as a separate project. Then it will ask the individual to answer 10 questions in four steps to help discover the scope and complexity of a mobile app project.
These 10 questions cover everything from client-side application development, what the team is looking for in an app, and then it takes the individual through backend integration questions, like how many integration points are in the application, and how the team wants to deploy the application, said Grant.
Once the individual is finished answering the questions, the tool will generate a report that gives teams an overview, or an assessment score, of the front-end development, back-end integrations, and deployment. Then, it offers teams an estimation of developer resource requirements and an additional set of recommendations and tools are available as a downloadable PDF file, according to Grant.