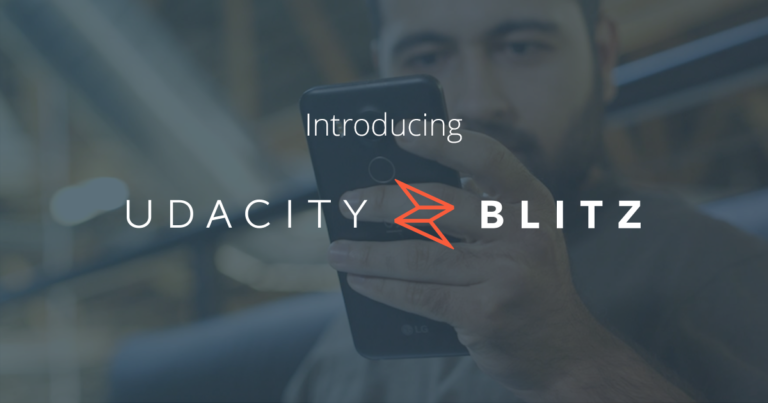 In order to connect companies with some of the top engineers who are proficient in mobile app development, web development and other specializations, Udacity is launching a new service called Udacity Blitz.
With technology rapidly changing, the gig economy continues to grow. Freelancers, contractors and temporary employees are becoming popular in the software development and design community, and Udacity's new service aims to help both employers and engineers adapt to these changes.
Udacity typically provides online coding classes and nanodegrees, where developers and engineers can master in-demand skills like data science, machine learning, Android, iOS, and other modern technologies.
(Related: GitHub brings Projects to the organization level)
Udacity Blitz is made up of Blitz teams that build mobile apps, web apps, websites, data services, and more for companies that need to stay relevant in today's digital world. Companies will be able to hire Udacity Blitz engineers for their team with no restrictions or fees, according to the company.
"Udacity Blitz gives Nanodegree program alumni new opportunities to apply their skills, add to their resumes, and earn money, while at the same time presenting clients with direct access to the best talent, and a clear path to hire that talent for their teams," said Christopher Watkins, a writer for Udacity, in a blog post.
Udacity Blitz provides a fixed price estimate, a customizable team, and a 100% refund if it fails to satisfy. Companies can go to blitz.com and propose a project, with a project manager making sure the project is completed on time and keeping a consistent line of communication throughout the job. According to the company, this allows companies to have full visibility into a project, and they can build relationships with Udacity Blitz engineers.
Blitz has been in beta for a few months with clients like 99designs, AJ & Smart, Optimista, Sidewalk Labs, and a few others. According to Udacity, during the beta, the average salary of Blitz engineers who received full-time jobs ranged from US$75,000 to 145,000.
The announcement also comes on the heels of new areas of study for nanodegree programs with Udacity, such as artificial intelligence, virtual reality, and self-driving cars.