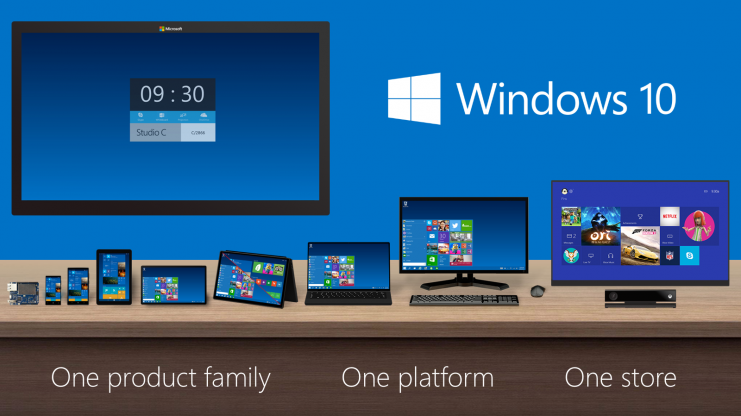 Microsoft has announced its next-generation operating system for all devices: Windows 10.
Windows chief Terry Myerson walked onstage at Microsoft's press event this afternoon and announced a curveball: The new operating system is skipping over 9 and moving straight to 10, and the Microsoft community is getting wider preview access than ever before with the newly launched Windows Insider Program.
According to Myerson, Windows 10 will ship "late in the year" in 2015, after Microsoft's Build conference.
"Our new Windows must be built from the group up for a mobile-first, cloud-first world," he said. "Windows is at a threshold, and now it's time for a new Windows."
Windows 10 will be one comprehensive platform with one app store for all devices in Microsoft's product family, appealing to desktop and mobile users with a UI that blends elements of Windows 7 and Windows 8 in a familiar way. On the Windows 10 desktop, both the icon-based Start Menu and customizable live tiles are there, with a universal search bar that returns Bing Web results.
Developer focus for now
The debut of Windows 10 was about enterprise users. No consumer features, music, video functionality or Internet Explorer. From the start, Microsoft is pushing Windows 10 as a familiar, compatible experience for all device-management solutions, with a customizable store for enterprises as well as management of personal and corporate data across devices.
To drive enterprise input and engagement, starting tomorrow Microsoft is launching the Windows Insider Program, its largest-ever open collaborative development effort. The program will provide a technical preview build for laptops and desktops, with a server build to follow.
FBR Capital financial analysts Daniel Ives and James Moore believed Windows 10's enterprise focus will be key to its success.
"The event was clearly geared toward Microsoft's bread and butter enterprise customer, and we believe starting an early dialogue with these customers as well as learning from previous mistakes made in Redmond will be key to garnering major adoption of this all-important product cycle in the field," they said.
The company wants to get Windows 10 in the hands of enterprises and developers early and often along the road to release. Feedback will come from surveys, forums and more.