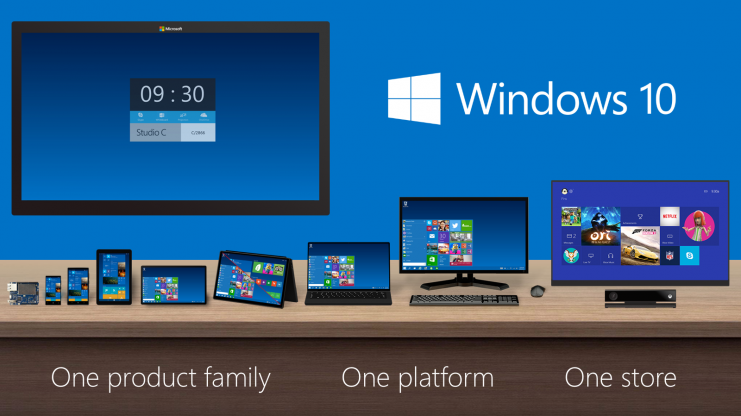 Microsoft has announced its next-generation operating system for all devices: Windows 10.
Windows chief Terry Myerson walked onstage at Microsoft's press event this afternoon and announced a curveball: The new operating system is skipping over 9 and moving straight to 10, and the Microsoft community is getting wider preview access than ever before with the newly launched Windows Insider Program.
According to Myerson, Windows 10 will ship "late in the year" in 2015, after Microsoft's Build conference.
"Our new Windows must be built from the group up for a mobile-first, cloud-first world," he said. "Windows is at a threshold, and now it's time for a new Windows."
Windows 10 will be one comprehensive platform with one app store for all devices in Microsoft's product family, appealing to desktop and mobile users with a UI that blends elements of Windows 7 and Windows 8 in a familiar way. On the Windows 10 desktop, both the icon-based Start Menu and customizable live tiles are there, with a universal search bar that returns Bing Web results.
Developer focus for now
The debut of Windows 10 was about enterprise users. No consumer features, music, video functionality or Internet Explorer. From the start, Microsoft is pushing Windows 10 as a familiar, compatible experience for all device-management solutions, with a customizable store for enterprises as well as management of personal and corporate data across devices.
To drive enterprise input and engagement, starting tomorrow Microsoft is launching the Windows Insider Program, its largest-ever open collaborative development effort. The program will provide a technical preview build for laptops and desktops, with a server build to follow.
FBR Capital financial analysts Daniel Ives and James Moore believed Windows 10's enterprise focus will be key to its success.
"The event was clearly geared toward Microsoft's bread and butter enterprise customer, and we believe starting an early dialogue with these customers as well as learning from previous mistakes made in Redmond will be key to garnering major adoption of this all-important product cycle in the field," they said.
The company wants to get Windows 10 in the hands of enterprises and developers early and often along the road to release. Feedback will come from surveys, forums and more.
"Enterprises need to evaluate Windows early, and we're starting our dialogue with them today," Myerson said. "Windows 10 will be familiar for these companies. They'll find the tools they're used to finding. Windows 10 will be compatible with all the traditional management systems used today."
In terms of apps and windows, Microsoft is bringing back the Windows 7 Snap View for both classic and universal apps. One new Windows 10 feature demoed was Task View, a multitasking button that launches a UI with multiple desktops and open apps, which can then be customized with a new Snap Assist feature that extracts apps from those desktops.
Windows 10 will also be more focused on two-in-one convertible touch devices such as the Surface line of tablets. The OS will ask users if they want to switch to tablet mode when the keyboard is removed, and the UI will show an option to switch back to desktop mode when the keyboard is reattached.
The Charms bar is still there for touch users, though with a larger task view and swipe-left functionality for opening the view. The only other new feature explicitly demoed was an improved Windows 10 command prompt, with the ability to paste in directories with CTRL-V.
(Related: Can Microsoft rescue Windows?)
With competing operating systems from Apple, Google and others, there's more pressure than ever on Microsoft to get Windows 10 right. Mobile and desktop sales of Windows 8 have been dismal, with backlash coming from desktop and enterprise users over touch and live tile features. When asked during the final question of the Q&A how much of a threat Microsoft considers Apple and Google, and how Windows 10 addresses that threat, Myerson was brief.
"We're aiming to respond to user feedback and provide the best product that we can," he said. "We think that's the best way to compete."
Overall, FBR's Ives and Moore saw Windows 10 as another step in the right direction for Microsoft under Satya Nadella.
"Strategically speaking, we believe the company's game plan around a more unified platform is centered on creating a tightly woven integrated ecosystem for its software across all devices, potentially laying the seeds to reignite growth in its core Windows business over the coming years," they said. "Overall, we believe today's event was another step in the right direction in the Nadella era… We view Windows 10 as a potentially 'game-changing' product release for Microsoft, as this platform also ties into Nadella's mobile and cloud strategy with a number of features helping to improve the user experience and move away from challenges in its Windows 8 iteration."