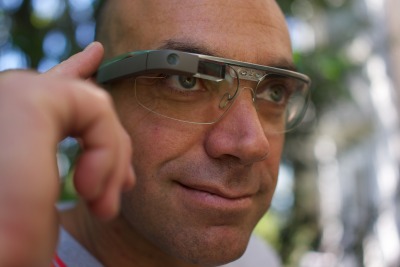 Man diagnosed with Google Glass addiction
Doctors from the Naval Medical Center San Diego have reported what they say is the first case of Internet addiction disorder (IAD) involving the Google Glass. IAD is the problematic use of online video games, computer use and mobile handheld devices.
"While not officially a clinical diagnosis according to the most recent version of the Diagnostic and Statistical Manual of Mental Disorders (DSM), individuals with IAD manifest severe emotional, social, and mental dysfunction in multiple areas of daily activities due to their problematic use of technology and the internet," the doctors wrote in their report.
According to the doctors, the patient was being treated at the Navy's Substance Abuse and Recovery Program for alcohol, but the Glass addiction proved more severe. He became significantly frustrated and irritable when he was not able to use his Google Glass and would tap his temple area with his forefinger regardless if he was wearing the device or not.
More information is available here.
OpenStack releases Juno
OpenStack has announced the tenth release of its open-source software for building public and private clouds, Juno. The tenth release adds enterprise features such as storage polices, a data processing service that provisions Hadoop and Spark, and lays the foundation for OpenStack to be the platform for Network Functions Virtualization (NFV), according to the company.
Additional features include operational updates to Compute; Neutron support for IPv6; federated authentication improvements; ability to roll back a failed deployment and ensure thorough cleanup; ability to deploy Apache Hadoop clusters with a few mouse clicks; and a new capability that allows users to manage relational database services in an OpenStack environment.
Visual Studio 2013 Update 4 RC now available
Microsoft has announced the release of Visual Studio 2013 Update 4 Release Candidate. The release comes with feature improvements and bug fixes to improve the Web development experience, according to Microsoft.
The JSON editor performance has been improved and a JSON schema validation feature has been added. The HTML editor has been updated with bug fixes, improved IntelliSense for Web standards, and introduced: better client template for formatting, support for custom elements, polymer-elements and attributes, basic IntelliSense for Web components, HTML element tooltips, support for region folding and Todo display. The CSS/LESS/Sass editor has been improved with bug fixes, updated IntelliSense, and improved level 4 IntelliSense selectors.
Other improvements include updates to ASP.NET MVC 5.2.2, ASP.NET Web API 5.2.2, ASP.NET Web API OData 5.3.1 beta, SignalR 2.1.2, and Owin 3.0.
More information is available here.
Docker 1.3 released
Docker Engine version 1.3 is now available. The release comes with over 750 commits from 45 contributors and includes new capabilities as well as quality enhancements, according to the organization. Four of the biggest features include:
Digital Signature Verification: With this release, the Docker Engine will automatically confirm the origin and integrity of all Official Repos using digital signatures.
Inject new processes with docker exec: Docker exec has been added to make debugging easier, and allows a user to "spawn a process inside their Docker container via the Docker API and CLI," the Docker team wrote on the company's blog.
Tune container lifecycles with docker create: The docker create command has been introduced to give users the flexibility to use the docker start and docker stop CLI commands to manage a container's lifecycle.
Security options: A new flag as been added to the CLI to enable users to set custom SELinux and AppArmor labels and profiles.
The full release notes are available here.