As homes get "smarter" and fill up with more connected devices, one startup is betting on gesture control as a natural way to manage a true Internet of Things.
Reemo is a Minneapolis-based startup developing a wrist-worn watch and software platform for developers to integrate gesture controls into connected devices and applications. This month the company announced the alpha release of the Reemo Watch, currently in its fifth prototyping iteration, along with the Reemo API and SDK, which include interface libraries in JavaScript, Objective-C and Java.
According to Reemo CEO Al Baker, the idea for the gesture-based technology came about in 2012 as a way to help his cofounder's father, who had recently suffered multiple strokes, experience a better quality of life. In late 2014, Reemo's parent company Playtabase was one of the 10 home automation companies selected to participate in the inaugural Microsoft Ventures Seattle Accelerator, which Reemo CTO Ahmed Daoud said helped refine Reemo's API and developer kit.
According to Daoud, input from the small developer community around the platform as well as the market shift toward wearables and IoT have greatly influenced which features, capabilities and use cases the Reemo team has focused on.
"We've developed Reemo from scratch," he said. "We started designing, prototyping and developing, and built every single design layout and line of code in-house to create this tightly integrated platform experience for consumers of Reemo the product and Reemo the development platform."
Reemo is shipping to developers with out-of-the-box integrations for Icontrol OpenHome, Logitech Harmony, Nest, SmartThings, and other connected home and IoT systems. Support for the AllJoyn IoT framework and platforms from AT&T, Honeywell and Intel is coming in 2016.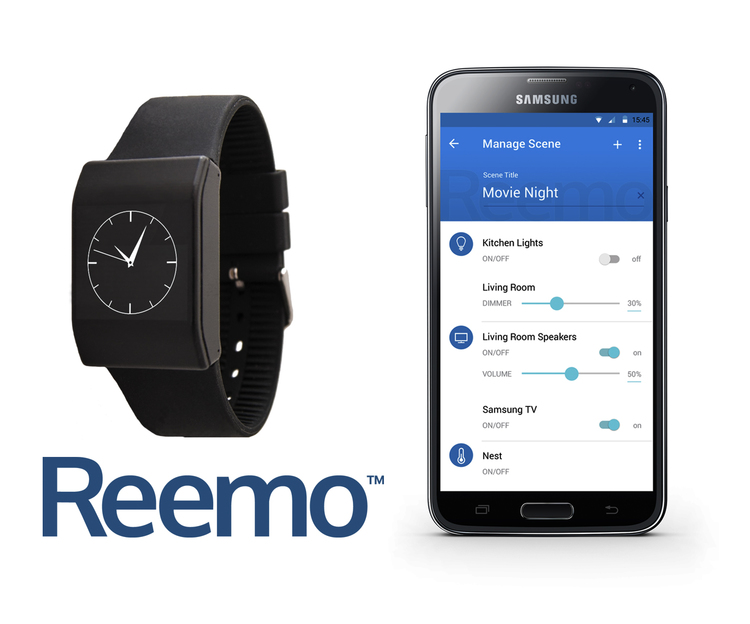 The Reemo platform comes with seven pre-programmed gestures, which users can modify the sensitivity of on top of programming their own shortcut gestures. As Daoud explained, for developers, the gestures act as buttons to map functionality to any device or endpoint, unifying the connected home experience in a more natural way.
"As the IoT community grows and as more and more devices are connected, the processing overhead to be able to control all these devices is not going to scale well," said Daoud. "It'll be cumbersome for users to find real value in their life from all these connected devices if they have to spend so much time logging into an app and scrolling through a list of devices to control one. If we're able to bring true effortless control through gesture—I see, therefore I can—you see something, point at it and control it, then we're really making people's lives easier and allowing the mainstream IoT movement to gain more traction."
The Reemo team is also experimenting with other input types such as taps and shakes with the Reemo Watch to control a device, as the team works to ultimately release an open-source middleware layer to accompany the API. Daoud said the team plans to post a Git repository for code contributions and more hands-on developer input sometime in the next year.
As for extending Reemo's gesture control technology to other wearables and wearable platforms, he said Reemo's reference design allows hardware makers to repackage the motions and gestures onto their own devices. But plans for a Reemo app on Apple Watch or Android Wear are still speculative. He said the company is also working to add fitness tracking capabilities to Reemo.
"The nice thing we can bring to developers is one device incorporating fitness tracking as well as IoT integrations for more flexibility and creativity in development," said Daoud. "You have a much larger palette to paint your IoT or home automation scenarios. You bring a device into your home to make Reemo-compatible and have it respond to your gestures, your fitness levels or to the number of steps you've taken—all of these things can integrate into one."