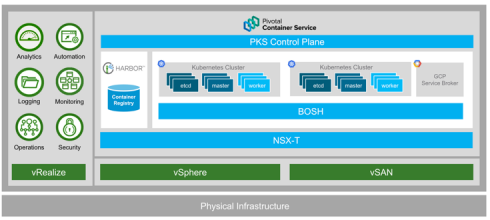 Pivotal and VMware have announced the general availability of its Kubernetes-based container service Pivotal Container Service (PKS). The two companies along with Google Cloud announced it would be collaborating on PKS at a VMware conference in August. The initial version was released late last year.
"As you evaluate your enterprise software portfolio, you're going to have app platforms, containers, and functions. So of course you're going to have plenty of Kubernetes clusters in the mix. Your job now is to give your team a rock-solid, secure Kubernetes 'dial tone,'" the Pivotal team wrote in a post.
PKS is designed to give both operators and developers the ability to run Kubernetes at scale in production. Version 1.0 of the solution includes: multi-cloud capabilities, support for vSphere and GCP, support for Kubernetes 1.9.2, Cloud Native Computing Foundation-certification, advanced container networking, enterprise grade security and multi-tenancy with cluster-level security.
"With container networking, security, persistent volumes, monitoring, and analytics, PKS runs on the SDDC portfolio enabling operators to manage and vend Kubernetes services quickly while developers enjoy the latest container technology to build and run their apps. With PKS, running VMs and containers on a consistent infrastructure with consistent operations has never been easier, enabling users to welcome containers into the fold without the risks and challenges of a greenfield deployment," VMware wrote in a blog post.
Other key features include: on-demand provisioning, an enterprise container registry, NSX-T network virtualization, and fully automated operations.