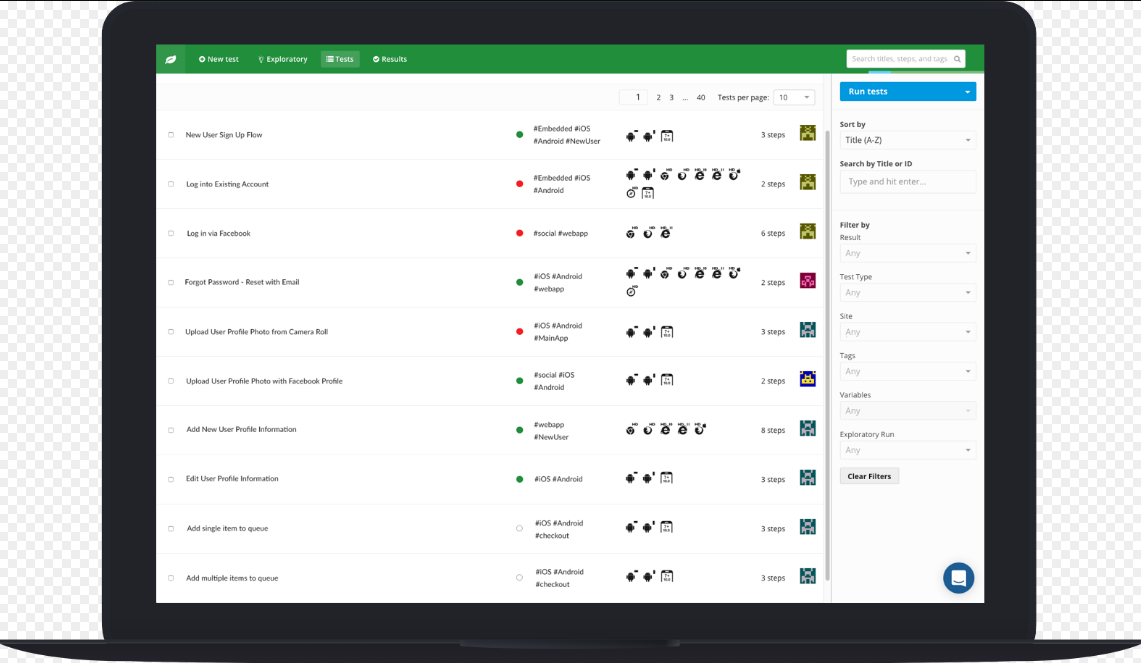 Rainforest QA launched its new Rainforest QA Mobile App Testing solution, which offers crowdtesting that combines virtual machines and real devices. It's built on Rainforest QA's crowdsourcing and AI platform, and gives teams testing results without requiring additional engineering resources to manage.
"Traditional mobile testing solutions that rely on testers using their personal devices take days or weeks to return results, and those results are often hard to reproduce," said Russell Smith, chief technology officer and co-founder for Rainforest QA. "Only Rainforest QA's platform approach, which blends virtual machines and real devices — while running AI underneath to verify results — can provide fully on-demand, comprehensive, highly-reproducible testing completed within hours each and every time."
The new solution comes with more speed for faster tests, it reduces costs of virtual machines, and because of its real-world device testing abilities, teams are able to deliver repeatable states across each testing configuration required. More information on this release is available here.
Dart 1.24 released
The application programming language created by Google is getting new performance updates this week. Dart 1.24 is designed to provide a faster edit-refresh cycle as well as a new function type syntax. In addition, it features the Dart Development Compiler.
The generic function type syntax enables developers to "specify generic function types everywhere a type is expected," the team wrote.
Other features include pub serve support for the Dart Development Compiler, the ability to publish packages that depend on Flutter SDK, updates to Dartium, and a new warning for the MIPS architecture.
Yahoo joins Verizon
Verizon has officially completed the Yahoo acquisition. Earlier this week, it was reported Yahoo CEO Marissa Mayer was reportedly going to resign with this deal. Her resignation is now official.
"Given the inherent changes to Marissa Mayer's role with Yahoo resulting from the closing of the transaction, Mayer has chosen to resign from Yahoo. Verizon wishes Mayer well in her future endeavors," Verizon wrote in a statement.
Yahoo will become a part of Verizon's Oath subsidiary, which consists of more than 50 media and technology brands such as HuffPost, Yahoo Sports, AOL.com, MAKERS, and Tumblr.
Tails 3.0 available
Tails 3.0 is now available, making it the first release based on Debian 9 (Stretch). Tails 3.0 comes with a new startup and shutdown experience, desktop improvements, security improvements, and major upgrades to the software.
According to the Tails team, it was important that they released a new version of Tails around the same time the new version of Debian was released. Debian 9 will be released on June 17, and Debian allows Tails users to benefit from cool changes in Debian, fix issues in new versions of Debian while it is still in development, and more.
Major changes besides the startup/shutdown experience include all options available from a single window, languages and region settings are displayed first, accessibility features enabled from the start, and security improvements to Tails.
More information is available here.