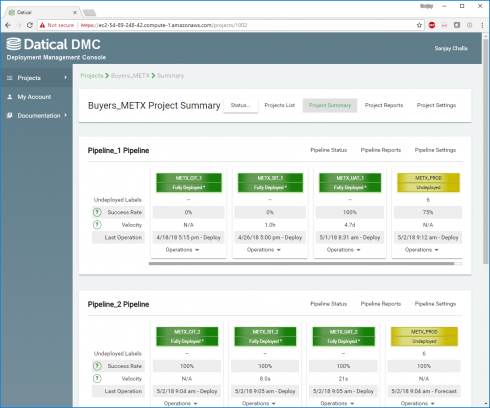 Datical has announced the latest release of its enterprise-class platform for automating database releases, Datical 5. Datical 5 is designed to improve database release visibility and increase developer productivity.
"Datical 5 speeds software deployment by providing a central command center to achieve a unified pipeline for application and database changes, freeing up time for development, test and database administration teams to create and deliver better application experiences — faster," the company wrote in a statement. "Developers are now empowered to continuously manage and rework database code changes, allowing for seamless and efficient collaboration across the DevOps pipeline."
The beta release of Datical 5 was first released in February with real-time collaboration and communication, simplified developer experience, and centralized security. Today, the platform is being released with support for Microsoft SSIS, the ability to version SSIS packages and orchestrate when SSIS jobs are performed. According to the company, his will help organizations manage database releases while also coordinating ETL workloads to ensure that no data is lost.
Datical 5 also now comes with the ability to be integrated with development automation tools. Datical plugins for XebiaLab's XL Deploy and IBM's UrbanCode Deploy have been updated so teams can bring the database into view as they arrange software releases.
"As enterprises continue to look for new ways to solve deployment challenges and modernize automation, Datical is at the forefront, empowering development teams with the tools needed to streamline the entire software development lifecycle," said Pete Pickerill, co-founder and VP of product strategy, Datical. "Our new capabilities make it easy for application teams to focus on what is most important — the data."