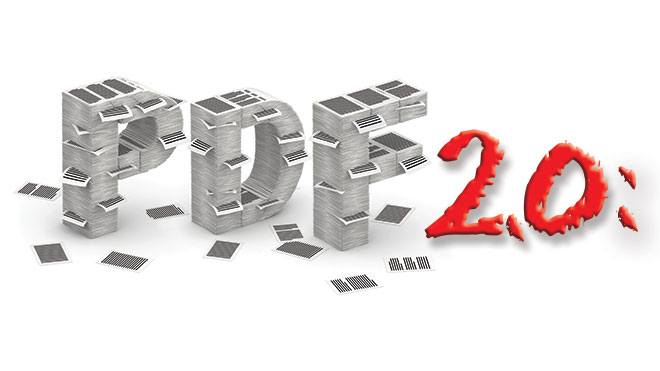 We are living in a digital age, and businesses no longer want to store their information and data on hard copies. Businesses from across a broad range of industries are turning to the Portable Document Format (PDF) to bring their printed documents online.
"PDFs are really becoming the de facto electronic document standard," said Gerald Holmann, founder and president of Qoppa Software. "They are being used to replace printed documents and move businesses to a fully electronic office, but also to enable the ability to interchange documents between offices, companies and users in a format that everyone can rely on."
Adobe designed PDF as a proprietary format in the early 1990s to support any type of content that could be printed, but that has resulted in a wide range of industries that want to use it. Because of this, the format has to be extensive enough to be able to support just about any use case, according to Holmann. This poses a problem for developers who have to consider all the individual elements such as the images, colors, objects, fonts, encryption and digital signatures a PDF could be composed of when trying to implement a PDF document solution into their applications.
"In order to work with PDFs, you need such a broad understanding of the PDF specification," said Matt Kuznicki, CTO of Datalogics. "Creating is easy, but understanding and taking in PDFs is very hard."
Looking forward to PDF 2.0
Adobe officially released the PDF format to the broader community as an open standard in 2008, and it was published by the International Organization of Standardization as a standard. It consists of more than 1,000 pages that specify everything that can go into a PDF document.
"There is a whole lot of information in there. It is very dense, rather technical, and in some ways represents somewhat of an obstacle because it is very hard to find a toolkit that really understands and conforms to the entirety of the standard," said Datalogics' Kuznicki.
The standards body is currently working on the PDF 2.0 standard, aiming to acknowledge that not all processors, toolkits and viewers are necessarily going to understand or handle all parts of PDFs. The upcoming standard is also meant to clear up some of the misinformation that dogged it in the past.
"It is not a dramatic change; a lot of our effort has gone into clarifying the standard and helping implementers understand how to implement the various features in it, and tighten up where it wasn't really clear," said Kuznicki. "It may not sound like a lot, but when you are dealing with such a comprehensive standard, it turns out to be a very daunting undertaking."