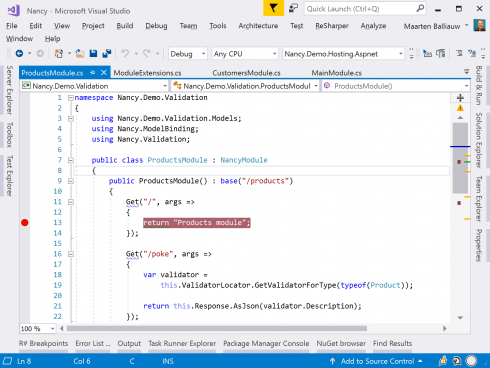 JetBrains has added more debugger features to ReSharper in the ReSharper 2017.3 EAP build. ReSharper is the company's Visual Studio extension for .NET developers. The latest EAP build improves and provides new functionality to the DataTip debugger. The new update also allows for the ability to navigate to breakpoints, and create them from the Find Results tool window.
In addition, the company announced Rider 2017.3 EAP with Smart Step Into debugging designed to make debugging lines with multiple statements easier. Rider is the cross-platform .NET IDE from JetBrains.
Qt 5.10 is released
Qt 5.10 has been released as well as a new graphical editor for creating 3D user interfaces called Qt 3D Studio.
Qt Quick now includes a plugin that allows placing items into scenes. It also has new pointer handers, which is a huge step forward for how Qt Quick handles complex multi-touch use cases, according to the company. There is now a QPA plugin that allows you to stream a full Qt User Interface to any WebGL enabled browser. Qt Core also has new features such as a new QStringView class, QRandomGenerator, and support for OpenSSL 1.1.
Heptio and Microsoft team up to provide Kubernetes disaster recovery in Heptio Ark
Heptio has announced a collaboration with Microsoft to allow Heptio Ark to provide a strong Kubernetes disaster recovery solution for those using it on Azure. The collaboration will also focus on making the Ark project a good solution for moving Kubernetes applications across on-premise computing environments as well as Azure. The companies also want to make sure that Azure-hosted backups are secure.
"Few real-world companies live solely in the public cloud," said Heptio CEO Craig McLuckie. "It is incredibly important that the tools and practices they adopt when selecting their public cloud services work on-premises as well. Microsoft's commitment to working with the open source community will not only benefit Azure customers, but strengthens the Kubernetes community."
Dell Boomi Fall 2017 release now available
Dell Boomi has announced the availability of the Fall 2017 release of its cloud integration technology. This release adds new integration accelerators and features that will provide strong data insights, security, and compliance. It also has an enhanced drag-and-drop data integration and applications development environment. The latest Boomi release has new connections for Box, AWS, Salesforce Events, Shopify, and Zuora.
"Boomi's cloud-native, unified platform allows you to scale and move to the cloud, however we understand that supporting the realities of today's enterprise means it's a journey to best-of-breed cloud," said Steve Wood, chief product officer of Boomi. "With Boomi, our customers always have access to the industry's most advanced integration capabilities to help them digitally transform their organization and move toward being a successful Connected Business."