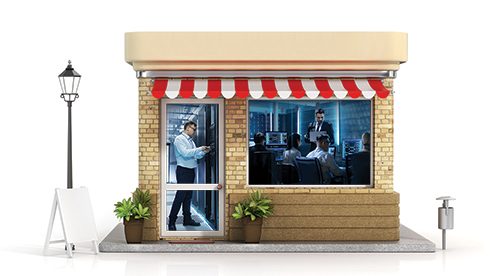 In the year 2018, how will companies use development processes, business practices, IT infrastructure, and technologies like artificial intelligence and IoT to help drive digital transformation? While many organizations are starting down the path, sometimes with an eye to improving the user experience (UX), progress levels, types of initiatives, and specific implementations vary a lot from one industry to another and even between individual companies. That's the general consensus of opinion among a variety of informed observers.
In a study of 450 heads of digital transformation, 80 percent of respondents said that they were at risk of being left behind by digital transformation. Moreover, 54 percent agreed that unless their digital transformation efforts are successful, their companies will go out of business or be absorbed by a competitor within four years, according to the survey, commissioned by Couchbase and conducted by Vanson Bourne.
On the other hand, another recent study looked at the differences between the "top 100 leaders" in digital transformation versus other companies, turning up much more hopeful results. Performed by SAP, with research and analysis support from Oxford Economics, the study found that, on average, the leaders expect a 23 percent growth rate over the next two years through digital transformation.
"What set these leaders apart is that they have internalized the need to transform what they think as well as what they do – to create a digital mindset across the organization. This is the difference between saying "we need a new mobile app" and "we need new ways to serve customers in the ways they want to be served," according to the report.
Digital transformation initiatives typically involve cloud computing platforms, DevOps and agile development approaches, and emerging technologies like non-relational databases, big data analytics, AI, virtual reality (VR), augmented reality (AR), and IoT devices.
Organizations are making a massive mistake, though, if they focus on sheer technological change. Instead, the end objective should be a better customer experience.
"If the ultimate goal of digital transformation is to more effectively understand, engage, sell to, and support customers, it's fundamentally a business transformation that requires an extraordinarily strong partnership between IT and business leaders," noted Rich Murr, CIO of Epicor Software.
Exceptions are the rule
Across the board, "born in the cloud" startups hold advantages over older companies, which must contend with modernization of (or migration from) legacy servers, mainframes, and network infrastructures, said Brian Klingbeil, executive VP at Ensono.
Amazon, for example, is completely disrupting long-time brick-and-mortar retailers like Macy's and Sears, pointed out Chris Locher, VP of software development at The Nerdery.
In fact, Dell Technologies' Digital Transformation Index demonstrates that 78 percent of leaders of large companies view startups as threats to their businesses.
When it comes to staffing, only 20 percent of business and IT executives in the public sector rate their organizations' digital skills as "highly or quite developed, "in contrast to 46 percent of those in the healthcare, pharmaceutical and life sciences industry, for example, according to recent research by PwC.
Looking forward into the year ahead, here's a drill down into ten trends to watch for in 2018, culled from numbers and analysis from many thought leaders.
The UX will take center stage.
"Digital transformation provides companies with the ability to build better products, deliver better experiences, and better understand customers," noted Dave West, a former Forrester analyst who is now CEO of Scrum.org.
These days, digital apps with engaging UX are a business necessity. Insurance customers, for example, will no longer stand for calling up agencies all over the place to get rate quotes, filling out paper-based claims, and then waiting weeks to get paper-based checks from insurance companies, Locher maintained.
Delivering a great UX can extend far beyond just producing compelling smartphone apps for end customers.  Ultimately, it can mean creating a seamless digital experience for interacting with customers, employees, partners, and other stakeholders, across mobile devices, the web, and iOT devices.
DevOps will forge ahead, especially in config management.
Digital transformation begins (although certainly doesn't end) with Agile and DevOps development technologies. Agile methodologies originated mainly at smaller companies as a way of getting development teams to work more efficiently. Enterprises began hopping aboard with the emergence of DevOps, which added automation — along with IT and operations teams — to the mix, said Steve Brodie, CEO of Electric Cloud.
Speed to market with Agile and DevOps can be impressive indeed. The UK's central tax agency, Her Majestry's Revenue and Custom,  is now able to roll out one new feature every week, observed Paul Fremantle, co-founder of WSO2.
Apps will get smarter
"Starting in 2018, we'll take gargantuan strides in embedding near-instant intelligence in IoT-enhanced cities, organizations, homes and vehicles," predicted Guarav Chand, senior VP of global solutions for Dell EMC.
Right now, AI is still in its infancy. However, scattered implementations are happening in areas ranging from health care to human resources (HR) and marketing. In health care, for instance, a company called FDNA has deployed an application for Next Generation Phenotype (NGP) facial pattern matching among more than 2000 medical facilities worldwide.
Running in FDNA's cloud and accessible from mobile devices and PCs, the app allows pediatricians to match children's facial characteristics against an ever-growing database, narrowing down a diagnosis to a handful of known medical syndromes in seconds. FDNA has produced a 75 percent improvement in the ability to reach diagnoses through genome testing, according to Dekel Gelbman, CEO.
Small digital transformation projects will expand
Some small digital transformation projects are slated for internal expansion this year. For example, MelhorTrato.com, a Spanish-language financial site, recently completed a pilot test of TensorFlow deep learning software running on its own network servers.  About four months ago, the company's HR department began using the AI technology to screen out the best job candidates, said Cristian Rennella, CTO and co-founder of the 9-year-old Latin America-based startup, which employs about 110 people.
In the past, the HR department spent 67.2 percent of its time reading the CVs of candidates who applied through its own website and third parties. To automate this process, the company tried TensorFlow. For the first 30 days of the trial, HR staff needed to work with the software to identify errors and alert the system for improving predictions. This caused a temporary slowdown in productivity in the HR division.
"But we are sincerely surprised with the results since then and very happy. On the path to digital transformation, boring, manual and repetitive business processes can be performed automatically thanks to AI. We can now invest more time on interviewing the best candidates," Relleno told SD Times.
Cross functional teams will add business execs
Yet in large enterprises, moving digital transformation beyond small pockets of deployment demands the formation of cross functional teams that also include the business side of the organization, according to many observers. In some instances, these teams are led by newly minted "chief digital officers," but elsewhere, leaders with other C-level titles are at the helm.
"To effectively make the transition [to digital transformation], organizations will start to throw away traditional business models in favor of those where customer-centric teams are central to all operations," West advised.
What can happen if business departments are left out of projects? Illustrated Murr: "When customers places items in an online shopping cart and pays for them, only to find out afterwards that the items is on backorder, it's quite possible they've experienced a technology transformation without a complementary business transformation — an e-commerce platform built atop legacy bricks and mortar supply chain processes. That experience isn't the way to wow a customer, win their loyalty, or grow a business."
Databases will diversify
Some 84 percent of organizations have experienced cancellation, delays, or reductions in scope of their digital projects due to limitations of their legacy databases, according to the Couchbase survey.
While traditional relational database management systems (RDBMS) have served the needs of enterprises until recently, new open source, NextGen, and data analytics apps will demand new types of databases, said Peter Rutten, an IDC analyst.
These new databases vary in design according to the needs of applications. Some, such as Postgre, are also relational, but others are non-SQL databases. "Some are document-oriented. Some are wide column stores, and some are key-value stores. High-volume data collection and ordering environments, such as Hadoop, are important, too," Rutten wrote in a report sponsored by IBM.
Mega-clouds will follow multi-clouds
The year 2018 will also see the formation of multi-clouds and even mega-clouds, some predict. "This trend is driven by the obvious economic and flexibility benefits of the public cloud balanced by the need to manage security and regulatory concerns," said Josh Epstein, CMO at Kaminario.
However, as more applications and workloads move into various clouds, cloud silos will become inevitable, inhibiting the organization's ability to fully exploit data analytics and AI initiatives, according to Dell EMC's Chand. "This may also result in applications and data landing in the wrong cloud leading to poor outcomes," he declared.
As a next step, enterprises will move on to mega-clouds, which will weave together multiple private and public clouds to work as a coherent, holistic system, according to Chand.
"To make the mega-cloud possible, we will need to create multi-cloud innovations in networking (to move data between clouds), storage (to place data in the right cloud), compute (to utilize the best processing and acceleration for the workloads), orchestration (to link networking, storage and compute together across clouds) and, as a new opportunity, customers will have to incorporate artificial intelligence and machine learning to bring automation and insight to a new level from this next generation IT environment."
Mainframes will get modernized
Organizations that have included mainframes in their infrastructures will be able to achieve huge ROI by modernizing their mainframe systems, integrating these systems with the data center infrastructure and IT processes, and opening up mainframes to the outside world, said Rutten and another IDC analyst, Matthew Marden, in an earlier report, commissioned by IBM and CA Technologies.
Enterprises are pursuing strategies that include running Linux and Java on the mainframe and allowing the mainframe to communicate with other parts of the infrastructure through web services and SOA to provide new revenue-generating services. Organizations are also integrating mainframes with mobile apps, operating mainframes in the cloud, and running agile development, DevOps, and internal and external APIs on mainframes, according to the report.
Network infrastructures will go NextGen, too
Also in support of digital transformation, companies will increasingly adopt NextGen networks over the years ahead, according to Rich Hillebrecht, CIO of Riverbed Technology. "These networks will largely be software-defined and will have a management plane that provides IT with the ability to leverage the right network paths, assign appropriate priority to network traffic, and ensure the health of the network at all locations," Hillebrecht told SD Times.
"They will also incorporate an integrated end-to-end view of the UX from the data center to end devices at the edge, so that anything that might jeopardize performance is identified and managed before the end user is impacted."
Organizations will deal with new security threats
Most business and IT executives are aware that iOT and other new technologies will pose new security risks for their companies, suggests a new study from PwC entitled "The Global State of Security 2018."
A total of 67 percent of executives polled said they have an iOT strategy in place or are currently implementing one. However, only 34 percent have yet assessed device and system interconnectivity and requirements across the business environment, according to Prakash Penkata, principal, Cybersecurity and Privacy, for PwC.