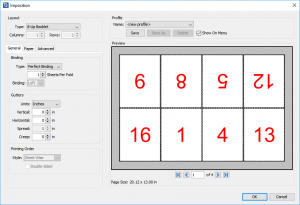 Qoppa Software announced version 12 of PDF Studio, the company's PDF editor for Windows, Mac and Linux. With this new version, users have access to new features like PDF Imposition, Scanning Configuration, Excel to PDF conversion, page resize, and 4K display support.
According to the company, professionals in the prepress and print industry can use PDF Studio 12 to preview or rearrange pages in a PDF using the new PDF Imposition function. It supports industry standard binding methods, and when combined with other features, it can be a useful tool for prepress and print professionals that run Windows, Mac or Linux, said the company.
The Scanning Configuration feature will allow users to save time on scanning tasks. PDF Studio 12's scanning configuration feature can be started with a single click from the scanning menu, and it will keep all of the information about the scanner to use, the color options, DPI resolution, and more, according to the company.
PDF Studio 12 can also convert Excel spreadsheets to PDFs "on the fly," Qoppa explained. Users have options to create a bookmark for each sheet and define how the spreadsheets should fit on the page. Users do not need Microsoft Office to be installed on the machine in order to use Word to PDF and Excel to PDF since they are based on Qoppa's own proprietary code.
Other features in this new version include the PDF Optimizer, which comes with a new audit feature that analyzes the sizes of all different objects in a PDF document, and new text annotations are also available for enhanced support for multi-language character sets.