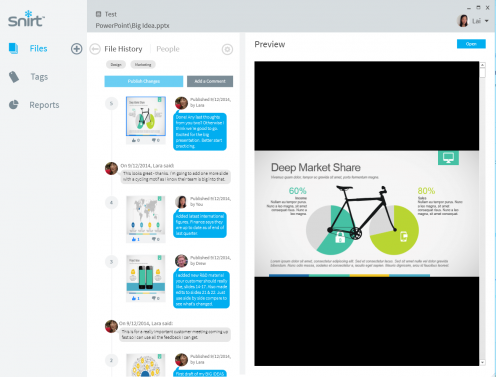 When it comes to collaborating on projects, developers often use version control systems such as Git, Perforce, Subversion and Mercurial. The problem is, not every person on the team is a developer and there are no good user-friendly ways for non-developers to use version control, according to Russ Peardon, cofounder and CTO of Snirt Labs.
"Developers have a little constellation of semi-technical people surrounding them such as technical writers, people doing project management, folks doing documentations, and folks doing marketing materials," he said. "They are all really part of that software project, but they are most likely not storing their input and their work product inside the SCM where the software is, so there is a bit of a clash there."
To solve this problem, Peardon and Nigel Chanter, cofounder and CEO of Snirt Labs, created Snirt, a re-imagination of source code management (SCM) for end users.
"The basic concept of knowing who changed what, when and why they changed it seems very simplistic and very common, but it's only been kind of available to software developers," said Chanter, former chief operating officer at Perforce. "What we were seeing was a lot of people wanted to use version control, but for non-developers there is just no easy way for them to do so," he said.
Snirt allows developers and non-developers to communicate with one another, view document history, view messaging history, comment on changes, compare versions side by side, and provides a single thread that's available to everyone.
"The idea is to basically take developer tools and make them more widely available to the public," said Chanter.
Snirt also provides integrated support for Microsoft Office, allowing users to collaborate directly inside their Office applications.
"We have two unique propositions," said Peardon. "We are using these proven super robust developer tools to store the versions of the documents and the other is that it's easy to use."
Snirt is currently available as a technical preview, and the company expects to have version one of the product ready by the end of the year.
More information is available here.