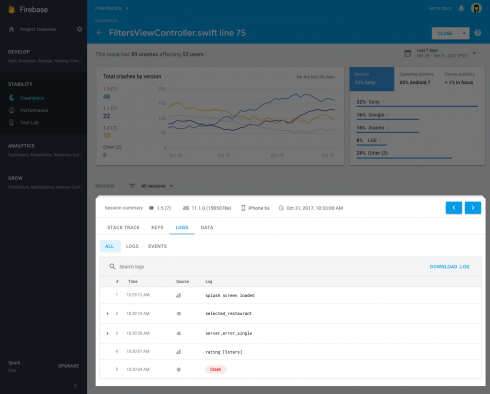 Google has announced that it is graduating Firebase Crashlytics out of beta. Firebase Crashlytics is a mobile app that assists users in tracking, prioritizing, and fixing stability issues in real-time. Google first acquired Crashlytics in January of last year.
The company also announced new feature integration with Analytics events, crash insights, ability to pin important builds, and dSYM uploading for stability issues.
With the GA release, the company announced plans to retire Firebase Crash Reporting to focusing on one crash reporter. Crash Reporting will be functional until September this year.
"As the default crash reporter for Firebase going forward, Crashlytics is the next evolution of the crash reporting capabilities of our platform," Jason St. Pierre, product manager fore Firebase, wrote in a blog post. "It empowers you to achieve everything you want to with Firebase Crash Reporting, plus much more."
BlackBerry and Microsoft's announces new mobile partnership
BlackBerry has announced a partnership with Microsoft that will combine BlackBerry's expertise in mobility and security with Microsoft's cloud and productivity products. Together, the companies have announced the BlackBerry Enterprise BRIDGE, a new solution for using native Microsoft mobile apps from within BlackBerry Dynamics.
"In an era when digital technology is driving rapid transformation, customers are looking for a trusted partner," said Judson Althoff, executive vice president of Worldwide Commercial Business at Microsoft. "Our customers choose Microsoft 365 for productivity and collaboration tools that deliver continuous innovation, and do so securely. Together with BlackBerry, we will take this to the next level and provide enterprises with a new standard for secure productivity."
dtSearch announces beta release of .NET Standard SDK
dtSearch has announced the beta release of .NET Standard SDK along with Xamarin and .NET Core APIs and sample code. The beta covers Windows, UWP, Linux, Android, macOs, and iOS.
Key features of the release include terabyte indexer and multithreaded searching, more than 25 search options, international language support, faceted search and data classification options, and data filters.
"The .NET Standard/.NET Core/Xamarin SDK beta comes as an addition to the dtSearch Engine's existing C++ and Java APIs for Linux, macOS and Android (with Android in beta), as well as C++, Java and .NET APIs for Windows and UWP," the company said in a statement. "The beta includes the first dtSearch Engine coverage for iOS."
Microsoft releases Windows 10 Insider preview
Microsoft is giving more insight into the upcoming release of Windows 10. The new release is expected to include a new ease of access settings, improvements for Narrator usability and eye control navigation, added features for improved reading and writing outcomes, and new collaborations with technology partners to bring more assistive technology related apps to the store.  
In addition, the release will focus on making it easier with people with low vision and hearing loss to use Windows 10.
"Thank you to the many people who have provided feedback to help make Windows 10 experiences delightful for people with disabilities," Jeff Petty, Windows accessibility program manager lead, wrote in a blog post. "In 2018, we look forward to working with customers and partners to deliver the best experiences on Windows 10 and grow the portfolio of assistive technologies in the Microsoft Store."
Magic Leap releases new developer tools
Magic Leap has announced a technical preview of the company's Creator Portal and SDK. This will provide developers with the tools and resources necessary to explore spatial computing and build next generation human-computer solutions on Magic Leap.
"We've said previously that if our technology was a rocketship, it'd be sitting on the launchpad. We think of today as welcoming new astronauts on our mission to mars. So, we encourage you to sign up, dig in and join us as we build the future together," the company wrote in a statement.