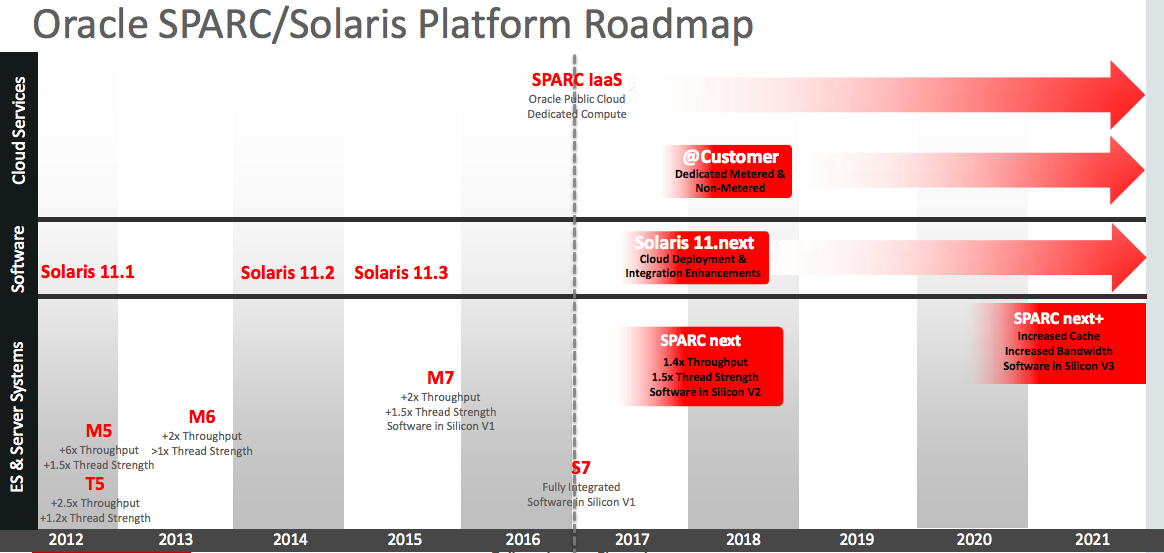 Oracle has never officially said that it had plans to end Solaris, but a new road map found on the company's Solaris systems pages intimates that Solaris 12 will likely never arrive. That road map, a small PDF on Oracle's site, shows a focus on cloud deployments and something called Solaris 11.next.
According to Oracle's road map, the company now sees SPARC and Solaris as cloud-focused systems. SPARC Dedicated Compute in the Oracle Cloud is the newest way for developers and Oracle customers to take advantage of the SPARC processor. The service offers many of the advantages SPARC processors offer, and Oracle's SPARC and Solaris road map insinuates that the SPARC processor will continue to advance and see new offerings.
(Oracle did not return request for comment for this story.)
SPARC next and SPARC next+ are the two names given for next-generation SPARC processors on that road map. The SPARC next processor will include version 2 of Software in Silicon, the unique SPARC feature that allows some software processes to be encoded into the chip, speeding up processing.
(Related: Oracle to acquire Apiary)
The SPARC next processor should appear sometime in 2018, while SPARC next+, which will have increased cache size and include Software in Silicon version 3, will arrive sometime around 2021, according to the document.
As for Solaris, the future seems only to hold version 11 updates. Solaris 11.next should arrive in 2018. At this point, there aren't even any details on Solaris 11.next; instead, what's noticeable in the road map is the lack of anything labeled Solaris 12.