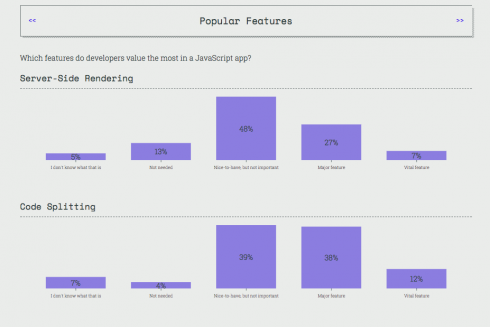 The State of JavaScript 2017 has released its features and opinion survey results. The report was released last month with the promise of adding more results in the coming weeks. The features section looks at what features developers value the most. All features were considered nice to have, but not important. Code splitting, hot module reloading, and dead code elimination were voted as major features, with the percent of votes almost as high in those sections as they were for nice-to-have features.
Most developers agreed with the statements presented to them in the opinions section, such as "JavaScript is moving in the right direction" and "I enjoy building JavaScript apps." The only statement that developers did not agree with was "JavaScript is over-used online."
Apache OpenOffice 4.1.5 is released
Apache OpenOffice 4.1.5 was released last week. Apache OpenOffice is a office document productivity suite.This release is considered to be a maintenance release. It corrected regressions and added the latest English dictionary. The new release will be available in 41 languages for Windows, macOS, and Linux, just like previous release of OpenOffice.
LogiGear announces the final results of four-part survey
LogiGear announced the results of its final part of a four-part survey based on the software testing landscape. The key finding of the survey was that teams need to have deeper testing knowledge and experience. It also found that 75 percent of companies who outsourced work viewed it as successful. 84 percent of respondents believed that outsourced teams were respected as much as the internal teams.
"US companies now realize their need for staffing test teams that grasp more technical knowledge of the testing process, not only the subject matter and product," said Michael Hackett, co-founder of LogiGear. "This realization came from a period of imbalance between test design SMEs and delegating tasks to employees sooner regarding technical work. Now that many job markets are limited in qualified technical resources, companies are beginning to look elsewhere for talent, in other job markets. They are opting for the technical work to be distributed to offshore and outsourced teams that comprehend the entirety of the technical concepts. They push forward with training, strong management oversight and communication infrastructure in their attempt to derive the best end product."