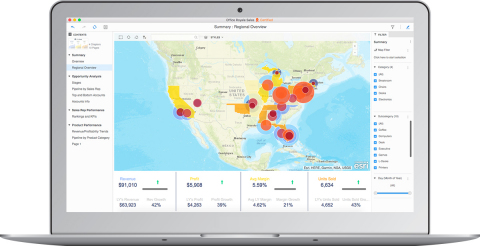 MicroStrategy has announced the general availability of MicroStrategy 10.10. This release adds the MicroStrategy Workstation, which will give users the ability to build and maintain enterprise content, create users and groups, assign security roles, and schedule and publish data mashups for business teams.
"We are incredibly excited to release MicroStrategy 10.10, which empowers business teams to confidently author, promote and certify analytics content, operationalize dossiers, and deliver the agility a business needs, along with the governance that IT requires," said Tim Lang, Senior Executive Vice President and Chief Technology Officer, MicroStrategy Incorporated. "The latest capabilities in MicroStrategy 10.10 are part of MicroStrategy's commitment to deliver the next generation of enterprise analytics to our customers so they can discover growth opportunities, solve complex business problems, and drive real results."
Talend adds new cloud and big data courses
Talend has announced new courses focused around cloud and big data technologies, featuring practical exercises. The courses will provide a live software environment that enables hands-on learning. There will also be options to either be instructed by self-paced materials or by instructors, either online or in person.
"Keeping pace with modern technologies is challenging for companies of all sizes. While innovation fuels powerful business opportunities, it also creates skills gaps in areas such as cloud and big data–where the demand for skilled workers is especially high," said Carrie Anderson, VP of enablement at Talend. "Data-driven companies need to develop their workforce to keep pace with rapidly evolving market needs and emerging technologies. Thus, training courses that give developers hands-on experience with the latest cloud and big data tools help give companies a competitive advantage."
Researchers at UC Berkeley develop technology that allows robots to see into their future
Researchers at UC Berkeley have developed a technology that allows robots to predict the future of their actions. The technology, called visual foresight, enables them to determine how to manipulate objects they have not encountered before. Though the technology is still in a simple stage, it can eventually be used by self-driving cars to anticipate future events that could occur on roads, according to the researchers.
"In the same way that we can imagine how our actions will move the objects in our environment, this method can enable a robot to visualize how different behaviors will affect the world around it," said Sergey Levine, assistant professor in Berkeley's Department of Electrical Engineering and Computer Sciences, whose lab developed the technology. "This can enable intelligent planning of highly flexible skills in complex real-world situations."
Unity releases new beta of Unity machine learning agents
The machine learning team at Unity has announced the release of v0.2 beta of Unity machine learning agents. This release adds new features to the Unity SDK and Python API, four new build environments, and improvements to the default Reinforcement Learning algorithm. Unity has also announced it will be hosting an ML-Agents Community Challenge.