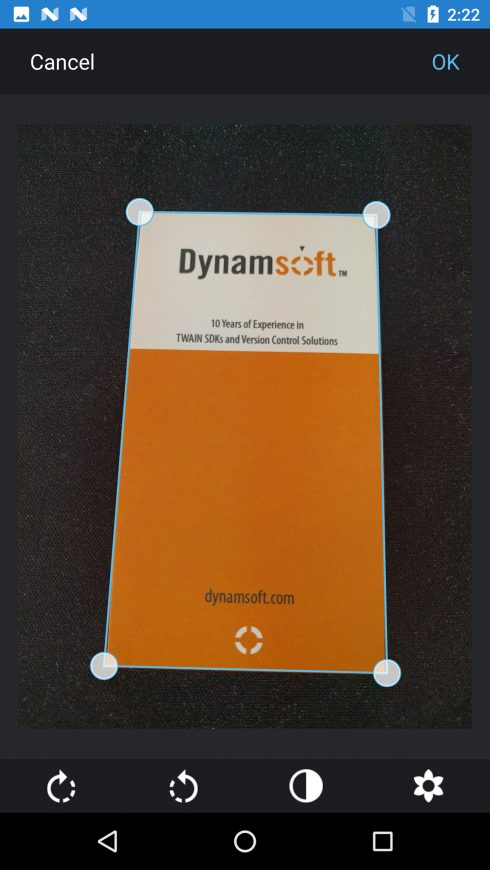 Dynamsoft has announced a new SDK for Android app developers that will enable them to build mobile apps with enterprise-level document scanning capabilities. According to the company, it is ideal for capturing and processing mission-critical documents such as contracts, forms, ID cards, driver's licenses, passports, receipts, and presentations.
The solution features built-in editing, automatic border detection, perspective correction, auto-cropping, noise/artifact removal, and brightness and contrast control. The SDK is used offline in applications so users will be able to make use of it without being connected to a network.
"With the addition of our Android-based SDK to our already-offered iOS one, we now provide comprehensive mobile capture solutions for both prominent mobile platforms," said Amy Gu, vice president of Dynamsoft. "These SDKs help developers of document management applications unlock the power of mobile capture by leveraging the mobile scanners most people walk around with in their pockets daily."
Quick Base Automations now available
No-code provider Quick Base has announced Quick Base Automations, a new solution designed to broaden the power of automation for no-code developers.
The new capabilities enable users to automatically add, update, delete, or move information around depending on what happens in a Quick Base app. It also allows them to perform actions on a schedule. Use cases for these capabilities include automating the creation of projects with a large number of steps, taking snapshots of sales data for weekly reports, or identifying VIP accounts based on deal amounts.
"Automation is where the world is going, and this development is a real breakthrough for anyone who is still using spreadsheets and emails to manage processes," said Jay Jamison, SVP of strategy and product management for Quick Base.
OutSystems raises $360 million to research and develop new advancements in software automation
OutSystems has announced it has raised $360 million in an investment round led by KKR and Goldman Sachs. With this new funding round, the company's total funding value is now at over $1 billion.
The money from this round will be used to accelerate business expansion and to research and develop new advancements in software automation.
"We're attacking one of the biggest problems facing businesses today — the lack of speed and agility of traditional software development that is hindering digital transformation initiatives around the world," said Paulo Rosado, OutSystems CEO. "We see companies struggle with this every day and we're thrilled to be partnering with KKR and Goldman Sachs to solve this problem by bringing more innovation to our customers and re-defining the future of enterprise software development."
Intelligent Tracking Prevention 2.0 released
Intelligent Tracking Prevention 2.0 has been released with several new features. Intelligent Tracking Prevention is a WebKit feature that limits cookies and other website data to reduce cross-site tracking.
Version 2.0 removes the 24 hour cookie access window, adds a user prompt for the storage access API, adds an origin-only referrer for domains without user interaction, and adds protection against first party bounce tracks and tracker collusion.