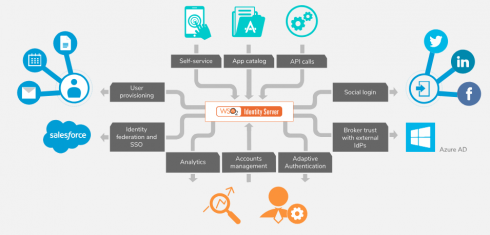 WSO2 has announced the Fall 2018 release of its WSO2 Integration Agile Platform. The new release will introduce unified monitoring and analysis of integration flows, adaptive authentication, and WSO2 Integration Agile Consulting services and resources.
"In today's digitally driven economy, no organization is an island. Instead, a rapidly expanding stream of processes and information is flowing across enterprise teams, their customers and partners. In the process, every software project is becoming an integration project," said Tyler Jewell, CEO of WSO2. "The Fall 2018 Release of our WSO2 Integration Agile Platform supports this new reality by advancing the ability of enterprises to effectively analyze and secure their integrated apps and services, as well as speed their integration releases and rapidly respond to changing business demands."
IEEE launches study and topic interest groups for IEEE 802.11
IEEE has launched a study group and topic interest group focused on advancing the IEEE 802.11 standard (WiFi). These groups will invite stakeholders to participate in their respective areas of focus.
The IEEE 802.11 Real Time Applications Topic Interest Group is working to document usage models and requirements metrics for applications.
"Immersive gaming, for example, is very latency sensitive and requires a quick turnaround on packets for users to enjoy a high-quality experience. Jitter, packet loss and what's going on throughout the network can have a large impact on these real-time applications, which may have only moderate bandwidth requirements but have very low tolerance for latency," said Allan Jones, chair of the IEEE 802.11 Real Time Applications Topic Interest Group. "What we're trying to do in our group is define more specifically what these requirements are for this particular category of applications, toward the goal of informing ongoing IEEE 802.11 innovation."
Netlify raises $30 million to replace webservers with Application Delivery Networks
Netlify has raised $30 million in a funding round led by Kleiner Perkins' Mamoon Hamid, with participation from Andreessen Horowitz and the founders of Slack, Yelp, GitHub, and Figma.
The company will use the funding to replace web servers with an Application Delivery Network. According to Netlify, this removes the dependency on origin infrastructure and enables companies to host entire applications globally.
Mozilla improves call speed between JavaScript and WebAssembly
Mozilla has updated WebAssembly to makes calls between JavaScript and WebAssembly faster. According to the company, in the latest version of Firefox Beta, those calls are faster than calls between non-inlined JavaScript to JavaScript.
Mozilla achieved this by getting rid of unnecessary work to organize stack frames as well as taking the most direct path between functions.