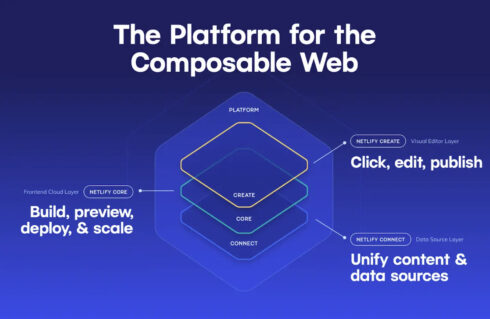 Netlify has introduced the launch of a new platform that will enable developers to build "modern, composable web architectures." 
The Netlify Composable Web Platform connects content, data sources, code, and infrastructure, providing development teams with everything they need to build and ship modern websites.
According to the company, some of the benefits the platform provides include simplified orchestration for composable architectures, faster time-to-market, faster web content load times, higher developer productivity, the freedom to build anything you want, and a foundation that's future proof. 
The platform has three main components: Netlify Connect, Netlify Core, and Netlify Create.  
Netlify Connect is the data unification layer, Netlify Core provides a unified development workflow, and Netlify Create is a visual editor for creating, editing, and publishing content. 
"As web technology has advanced, consumers have come to expect great things on the web and across applications. More personalization. Faster checkouts. Unparalleled speed. Netlify's vision has always been to provide solutions that enable businesses to deliver incredible digital experiences that surpass customer expectations," Matt Billmann, co-founder and CEO of Netlify, wrote in a blog post introducing the platform.