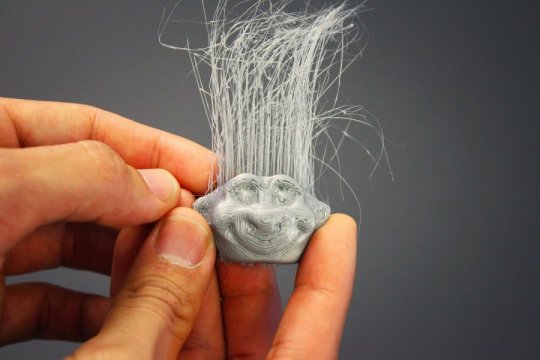 You can create engagement rings, toys, art pieces and even casts, but researchers at Carnegie Mellon University have found a way to produce 3D-printed hair.
3D printers normally produce hard plastic objects, but the researchers found a way to produce hair-like strands, fibers and bristles using a common low-cost printer, they said in a press release. The technique is similar to the way gossamer plastic strands are extruded when a person uses a hot glue gun.
The plastic hair was used to add hair on a troll head, the tail of a horse and toothbrush bristles, and it even produced natural-looking human hair. With a more "sophisticated" material, they might just be able to create hair with magnetic or other properties, the release said.
Clutch to have access to GitHub in DevOps partnership
DevOps technology and service provider Clutch is teaming up with GitHub to accelerate enterprise DevOps deployments. As part of the agreement, Clutch will have access to resources through GitHub's partner program that it plans to use to accelerated deployments for large and mid-market customers.
"Clutch focuses on delivering the full stack of agile solutions to improve software development in the enterprise," said Padma Rao of Worldwide Channels and Alliances at GitHub. "Their Rapid Prototyping and DevOps Acceleration services help customers deploy GitHub, improve workflows between teams, and successfully integrate their software development life cycle. Our partnership will improve time to market for new customer products as well as productivity within their development teams."

'Universal API to Everything' made for developers
CloudRail has launched the "Universal API to Everything," a solution that enables software developers to integrate applications to all connected smart devices or cloud services from one single API.
Software developers can use CloudRail for automatic integration into a broad offering of leading cloud services and smart devices, including service-based APIs like Dropbox and Facebook, and home devices like Nest. CloudRail Universal API and integrations are free to developers.
CloudRail's Universal API is also available for Java and Android developers, with iOS coming soon, according to the company's press release.
Circle with Disney controls what kids do on the Internet
With technology and Internet becoming a huge part of kids' lives, parents are wracking their brains trying to think of how they can take control of Internet usage. Circle With Disney is a US$100 device that tries to do just that: manage all of the family's connected devices.
Parents can limit screen time and set a bedtime for every device in the home, and Circle can "even pause the Internet," according to its website. Circle pairs wirelessly with the router for instant device recognition, and it requires no software per device or monthly subscription. It only works with iOS, though.
Circle also uses a technique called "ARP spoofing," which can automatically monitor all traffic on the home network without the need for special configuration, according to its website.