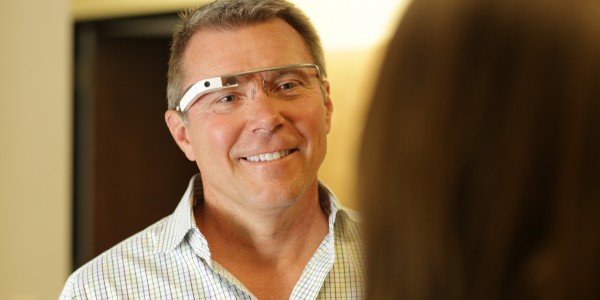 Google Glass could be coming to health systems, as startup Augmedix has secured US$17 million in a strategic round of funding that includes investments from Sutter Health, Dignity Health, Catholic Health Initiatives, TriHealth, and one other.
This round of funding allows Augmedix to scale Google Glass powered service across the health systems and private clinics. The goal is to allow those in the health systems to have more time to focus on their patients, and less time spent working on documentation.
"We believe that delivering quality, personalized patient care shouldn't be at odds with maintaining state-of-the-art electronic health records—both are important," said Ian Shakil, CEO of Augmedix. "With our wearable solution, healthcare organizations have the technology tools necessary to drive EHR efficiencies, enhance services, and improve patient care, all at the same time."
According to the announcement, Augmedix now serves hundreds of primary-care doctors, specialists and surgeons in nearly all 50 states who together see approximately 5,000 patients a day.
New features to SmartBear's test management tool
QAComplete is a flexible software testing-management tool for requirements, and the newest version of the tool was announced today by SmartBear.
This tool has overhauled its user experience to support agile test-management practices, and it comes with additional UX and security improvements. The QAComplete login and splash page have been revamped, with an easy-to-navigate title bar at the top of the screen. There are also new features for security administrators who want to enforce stronger password rules.
QAComplete 11.0 also includes new reporting and customizable dashboards. QA managers can get a global view of the effectiveness of their testing process, as well as traceability across tests, defects, and requirements.
QAComplete 11.0 is generally available now.
Mozilla's fight for better encryption
Mozilla wants developers to stand up for strong encryption. The nonprofit organization said that it is seeing more governments attempt to stop encryption, and that's why it wants people to sign up to become an "encryption champion."
Those who sign up as part of the advocacy group get relevant encryption information and tips, as well as the chance to be notified when debates are in an area them. Mozilla also has a few videos on encryption to show people what it is, how they can get involved, and what privacy means to an individual.
More information on becoming an "encryption champion" is available here website.
Machine learning book for hackers
There is a short book that teaches developers how to build machine learning applications with Leaf, a recently created intelligence framework that was engineered by hackers.
Leaf has a simple API built with layers and solvers, allowing you to build classical machines as well as deep learning machines. To make the most of the book, the authors recommended gaining a basic understanding of the fundamental concepts of machine and deep learning. They have provided some basic resources and glossaries to get started.
The book will take developers through the layers and solvers, demonstrating how to optimize layers, build a network, create a new layer, and more.
Leaf was inspired by the people behind TensorFlow, Rust, Torch, and other papers that bring performance and portability to deep learning. The book is available online.