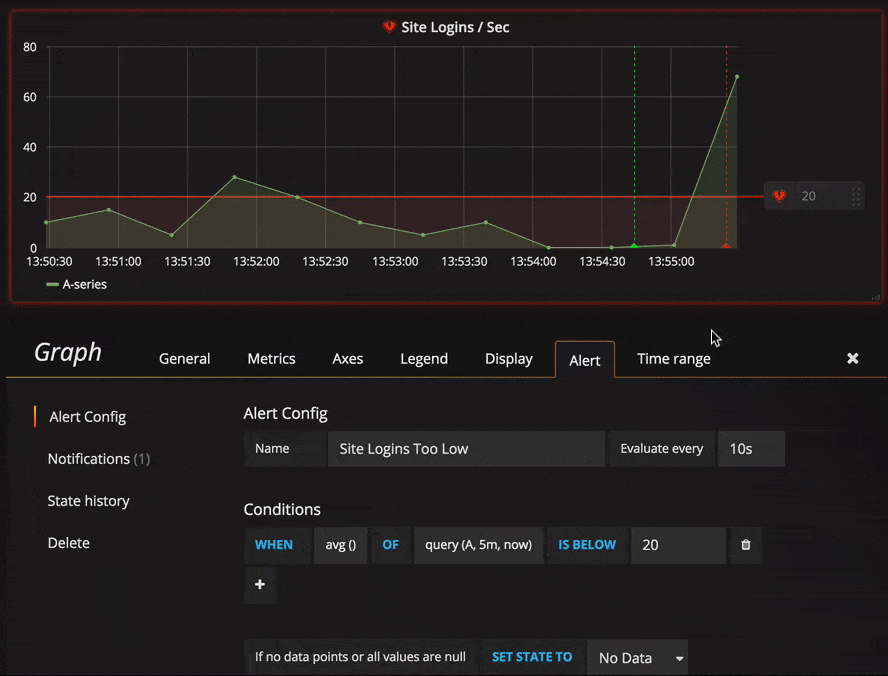 Grafana 4.0 is now available with an alerting feature, which turns Grafana into a critical monitoring tool. This release also comes with new minor features, fixes and an improved UX.
According to Grafana, the alert rules can be configured using existing graph panels and threshold levels by dragging handles to the right side of the graph. Currently, supported data source plug-ins include Graphite, InfluxDB, OpenTSDB and Prometheus. Elasticsearch is being worked on at the moment, wrote Grafana, but it is not ready for this release.
A full list of features and more information on the alerting feature can be found here.
HPE's StormRunner Load now offered through AWS Marketplace
HPE announced the availability of HPE StormRunner Load through the AWS Marketplace so developers can deliver their applications through a scalable platform.
According to HPE, developers can use this SaaS offering in conjunction with HPE Mobile Center and HPE AppPulse Suite so they have a complete set of solutions that can help them with application delivery challenges throughout stages of testing, deployment and monitoring.
Other features and updates to HPE StormRunner Load include hybrid cloud support, open architecture integration, enhanced user management, and the ability of app development teams to scale up and monitor usage with their existing AWS account.
More information is available here.
Kontena introduces container and microservices platform
Kontena has introduced its container and microservices platform, which gives developers capabilities for application deployment and distribution.
The 1.0 release includes the addition of Kontena Stacks, which allows developers to manage applications composed of multiple containers. Developers can also describe, install and upgrade their solutions with this release.
Kontena 1.0 supports cross-region and hybrid cloud deployments, so developers can work with resources from multiple sources as well as their data center or public cloud resources. Advanced features include fully integrated load balancers, built-in image registry, and life-cycle management of containerized applications stacks, according to Kontena.
More information is available here.
Google updates TensorFlow with new support
Google announced its machine learning toolkit now supports Windows. TensorFlow 0.12 features a native TensorFlow package available for Windows 7, 10 and Server 2016.
According to the company, support for Windows was one of the first requests it received for the open-source project.
Databricks announces new capabilities
Databricks wants to make it easier for Apache Spark to be deployed in the cloud. The company announced new capabilities to its platform designed to improve the reliability and security of data engineering on its Spark platform. In addition, the company said these improvements complement its already-existing data science environment. Features include SSH access, REST APIs, end-to-end log and performance metrics, customizable AWS tags, and encrypted AWS elastic block storage.
"As enterprises increasingly rely on Apache Spark to power more diverse production workloads supporting more people, it becomes critical to prevent business system outages that could cost millions of dollars," said Nik Rouda, senior analyst at Enterprise Strategy Group.