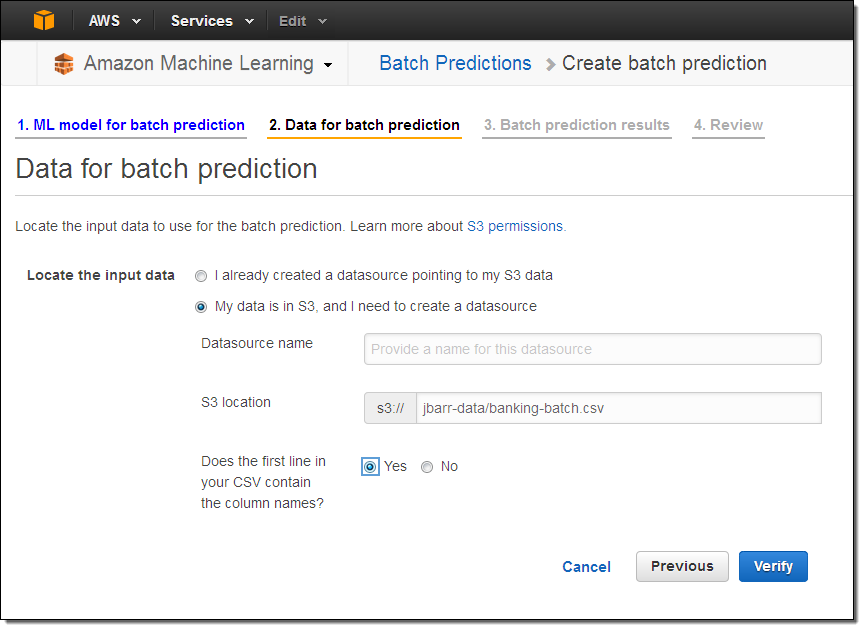 Amazon debuted a new Amazon Machine Learning service at the AWS Summit in San Francisco this week, allowing users to employ predictive modeling on large-scale data batches.
Amazon Machine Learning supports binary classification, multiclass classification, and regression predictions on a customer's data. Developers can also add code based on the service's predictions to influence its output going forward. The service is available now, with batch and real-time predictions costing US$0.10 for every 1,000 predictions.
More details are available in the Amazon blog post and in the Amazon Machine Learning Developer Guide.
FAA grants Amazon another drone exemption
The FAA is granting Amazon another exemption to test the latest model of its Prime Air delivery drones in the U.S. Amazon received permission from the agency last month, but said that due to the FAA's lengthy approval process, that drone model was obsolete by the time it received that exemption. This new exemption comes just weeks after Amazon's request.
Under the exemption, the FAA states that Amazon's drones must not operate beyond 100 mph and above 400 feet, and must remain in the operator's line of sight.
More information is available here.
Microsoft to offer a unified store for Windows 10
When Windows 10 is released, users will be able to access a single store for all apps, music, movies and TV shows. The company announced that Windows Insiders should see this unified experience in the latest Windows 10 Technical Preview builds.
"This single Store experience will be the one way for apps and games to be discovered, purchased and updated across all of your devices," wrote Brandon LeBlanc, senior marketing communications manager at Microsoft, on the company's blog.
Google reportedly working on Android Wear for iOS
Google wants to put Android Wear on the iPhone, if Apple will let it. The Verge reported that Google has been working on a way to get its wearable platform on the iPhone. According to the Verge, a source revealed that Google is finishing up its technical details on the integration.
There are developers who have already figured out their own ways to integrate Android Wear onto iOS, but nothing officially has been announced from the companies.
MIT announces new MIT's Institute for Data, Systems, and Society
The Massachusetts Institute of Technology has announced that on July 1 it will launch the Institute for Data, Systems, and Society (IDSS), offering cross-disciplinary academic programs on mathematical, behavioral and empirical sciences.
The IDSS, to be directed by Munther Dahleh, the William A. Coolidge professor in MIT's Department of Electrical Engineering and Computer Science, will allow students and researchers to collaborate on complex societal problems such as energy, transportation, social networks, healthcare and finance.
Under the auspices of IDSS, MIT will also launch a new center on statistics, along with an undergraduate minor. MIT is planning a new Ph.D. program combining data science, analytical tools and social science.
Additional information about the IDSS can be found here.
Hackr.io: A crowdsourced programming resource social network
A new collection of programming classes and resources is taking a crowdsourced upvote-based approach to coding knowledge.
Hackr.io offers online programming courses, tutorials and resources for various languages, technologies, platforms and frameworks—from C++ and JavaScript, to Android development, Angular, Docker, Puppet and HTML5.
What makes Hackr.io, unique is its upvote-based rating system. Users are free to submit resources, which are then voted up or down on the site a la Reddit. The site's goal is to foster sharing and discovery of the best programming tutorials and courses online.