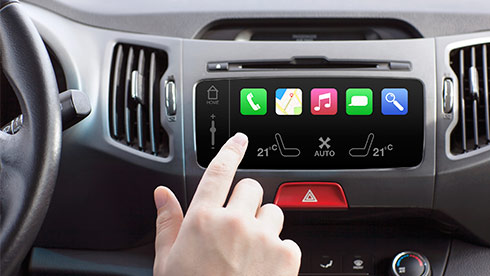 In 2014, "mobile" evolved into a more widely unified and interconnected concept. The last several years have seen smartphones, tablets and mobile apps take control of how we consume and compute information, redefining how we communicate with each other. A train with that much momentum doesn't stop when the market reaches its peak; it barrels forward into cross-platform functionality, more intuitive user experience, and an extended app and OS ecosystem spanning wearables, smart devices and even connected cars.
The big mobile software players all made big moves last year. At WWDC, Apple rolled out iOS 8, its most sweeping mobile OS upgrade ever with more than 4,000 new APIs, as well as its new Swift programming language to help developers reimagine what their iOS apps can do. A few months later, Apple unveiled a new direction, debuting Apple Watch with its own wearable-optimized OS, and its new Apple Pay feature designed to overhaul mobile commerce.
Google had a big year as well, echoing the trend of not just enhancing its mobile experience but advancing customized mobile functionality to new frontiers. On top of releasing Android "L"—later revealed as Android 5.0 Lollipop—at Google I/O with more than 5,000 new APIs and a radical new Material Design specification, Google essentially put Android everywhere. The mobile OS is on smartwatches with Android Wear, in cars with Android Auto to compete with Apple's CarPlay, and even in Android TV. Add that to experiments like Project Tango 3D mobile mapping and Project Ara modular smartphones, and Google is pushing mobile technology to new heights.
Smaller in market share but arguably more significant in scope, Microsoft under Satya Nadella has taken its "mobile-first, cloud-first" philosophy to heart. With unified platforms, releasing Office for iPad for free, cross-platform Apache Cordova, major IDE and tooling updates, and Windows 10, Microsoft is setting developers up with one universal platform to extend mobile development to whatever space it evolves into next.
One way it may evolve is toward HTML5 apps, with the recent W3C standardization of HTML5 marking a definitive step toward more complex and robust mobile applications. Those apps may populate OSes of wearable devices, the Internet of Things or even serve as intuitive cognitive helpers. IBM's Watson Mobile Developer Challenge has put the system's natural language and dynamic learning capabilities in the hands of education, healthcare and retail professionals.
2014 showed that mobile has no bounds. Operating systems, apps and websites can do more and exist on more platforms and devices than ever before. Web developers have an umbrella of responsive design techniques at their disposal to optimize mobile apps for whatever screens they inhabit, and players in the burgeoning mobile deep linking industry are laying app-to-app connections as the foundation of a more intuitive mobile Web. By 2016, the modern mobile landscape will look and feel radically different, and smartphones and tablets as we know them are just the beginning.